On Sunday besides making wine and sausage (there will be a post eventually on the sausage), I made granola. I have never had homemade granola . I followed
this
recipe. The recipe called for roasted slivered almonds but all I had was almonds still in the shell so I had to crack them all and chop them up but they weren't roasted and I threw in a few pecans and hazelnut meats too.
I mixed up everything and spread it out on the pan.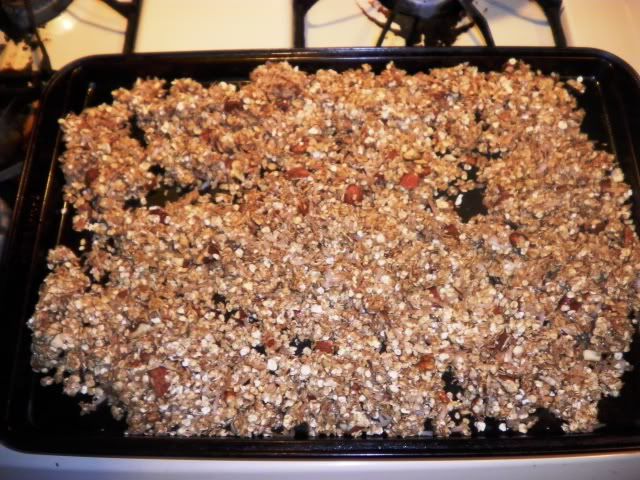 It was supposed to cook for 30 minutes. I stirred it three of four times during the cooking. For some reason I thought it would clump together more. It didn't. It smelled absolutely wonderful! I removed it several minutes (like 8) early as it seemed to me that it was getting too dark.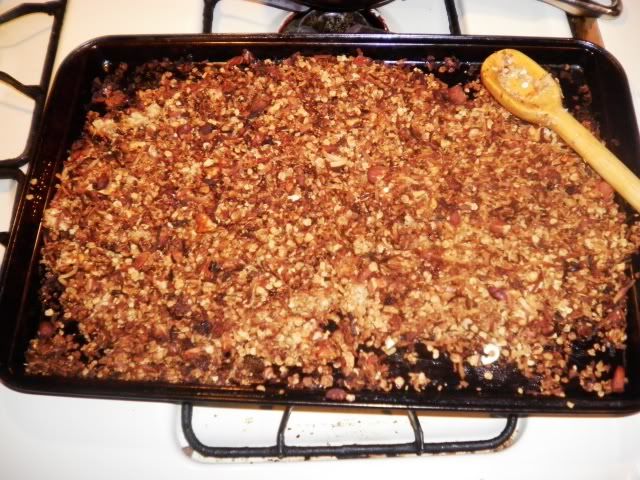 I tried it the first time on some of my homemade yogurt. It was pretty good but wasn't as sweet as I thought it would be. It is very crispy but doesn't seem to have a lot of flavor to me. I really think it cooked a bit long or maybe I just need a better recipe. I'll be looking around for other ones and see what I can find. It is important to me to not have to buy a lot of things to make one thing though so I want it to be made out of at least some things can be produced at home (this one had honey and nuts which could be produced at home though I don't have bees as of yet). If you have a blog post to a good granola recipe please feel free to leave it in the comments :)