I got the idea from watching a video on youtube. I wanted a pallet fence. It would go from the house to the shed on one side and then go from the other side of the house, up the hill and then over to the greenhouse. That would basically fence off the whole back yard.
Phil brought home about eight pallets and we spent about $45 on wood, screws, gate latch and hinges today. We started work on the fence from the house to the shed. It seemed so simple in the video but it wasn't quite that simple. I have post hole diggers but they couldn't dig down in this red clay very far before hitting something. Getting things straight with the slopped ground is almost impossible and then doing the peak on the arch was a bit tricky as well and, of course, some of the pallets had boards just slightly longer than some others and they all had to be cut. However, I am very pleased with our progress so far. I did not get a chance to take a picture at the beginning as I was busy holding posts, and 2 x4's but here is a picture after the arch was done and Phil has started putting on the slats. It is hard to see with everything in the background.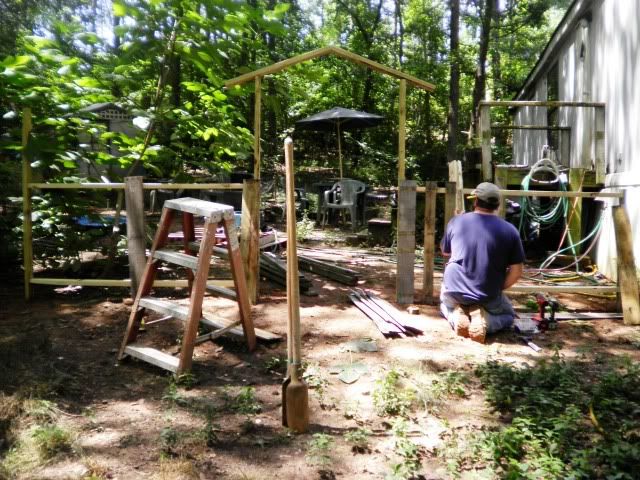 Here it is after the slats were put on.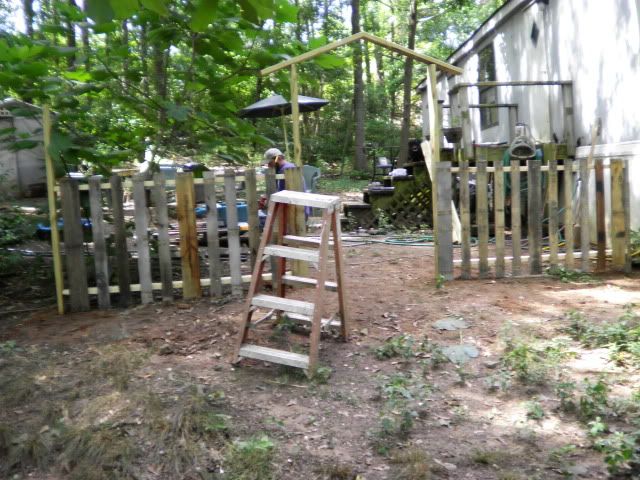 This is a better view from an angle. We still have one section of fence to do up to the shed and the gate. Hopefully it will all be done tomorrow. Then we can start collecting more pallets for the longer fence on the other side.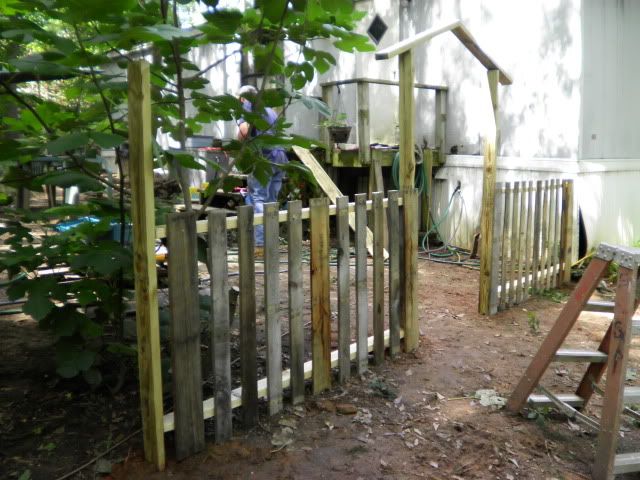 I want it done so that we can let Romeo out without worrying about him running after some neighbors loose dog (he thinks he is as big as they are) and I want to be able to leave the ducks out of their pen during the day without having to worry that they will be eaten by those same dogs.
We will likely paint the fence to help it last longer though I do think it looks rather nice the way it is now.