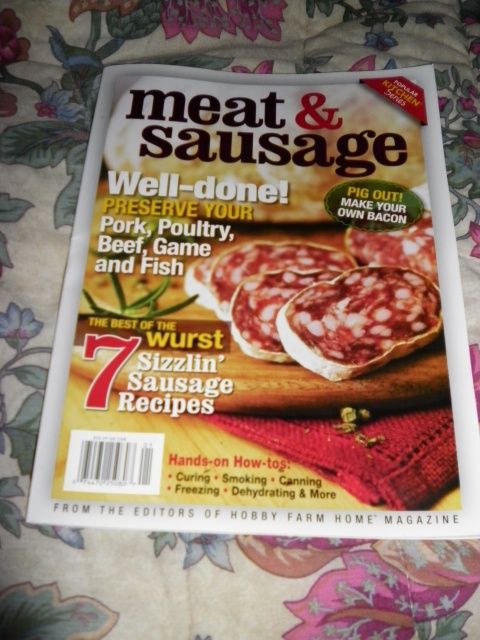 I recently picked this magazine up at our local Tractor Supply called Meat & Sausage. It is one of those special issues from the editors of Hobby Farm Home magazine. It was ridiculously expensive for a magazine but I was persuaded to spend more than I usually would by all the lovely pictures of things I hadn't tried to make yet like the picture on the cover. Unfortunately I still can't make whatever that is on the front cover because the magazine only went in depth on how to make a few things. That picture was used to illustrate dried fermented sausage in an article that told you the different ways meat could be preserved but never told you how to do any of them.
It was not a total loss however, the magazine did have those 7 recipes for sausage and they were not the basic recipes that you see everywhere online. I totally intend to try at least a couple of these recipes the next time I decide to tackle making sausage.
It also had a section on making bacon where they used just salt and brown sugar- no pink salt. I am not a big fan of bacon that is too sweet but I may try it sometime.
The magazine had a section on making jerky and told about making jerky out of any meat except bear meat. I really have never made any jerky except rabbit and beef and those used a cure and did not cook ahead of time. I was pleased to find I could make jerky from lots of different meat by cooking it before drying. However, the only recipe they gave in the book was for making....beef jerky. Still it gave me some good ideas.
One very useful article was on canning meat and another on pickling fish. I have canned meat but never pickled fish. I really never have enough fish to pickle but next time fish is on sale maybe I will try it.
Overall it was a very good magazine but really wasn't worth the $10.99 price and the pictures were a bit misleading since you think you are going to learn a lot more from the magazine than you really do.