Do they rack wine?
Here is the pink lemonade wine in its bottle. The taste is quite nice. I think we will be making a lot of it.
Do they make yogurt and bake pigs ears?
I usually make 2 quarts of yogurt because that is normally all we can use up before it goes bad and, of course, you don't want it to go bad because you have to have some left to make your next batch.
As for the pigs ears, Romeo can eat all those in one week....easily.
Do they slice bacon and make their own sausage?
I sliced up two chunks of bacon and took out a bag of pork pieces and made sausage with it. I think that is my last bag for sausage but there may be one more somewhere in that freezer. I had about 6 bags of bacon and 6 of sausage. This is the spicy sausage that we like best.
I lost the little blade to my meat grinder--can't find the thing anywhere but a few weeks ago I picked up a grinder/slicer at the thrift store for $7. It's called The Kitchen Works and boy, does it work good. Phil is rather disgusted since he paid over $80 for the one he bought me and it struggles to grind meat and takes forever and this thing just whips right through it. I didn't even have to get the meat really cold first. (I will order another blade for the other one though).
Do they pick hazelnuts?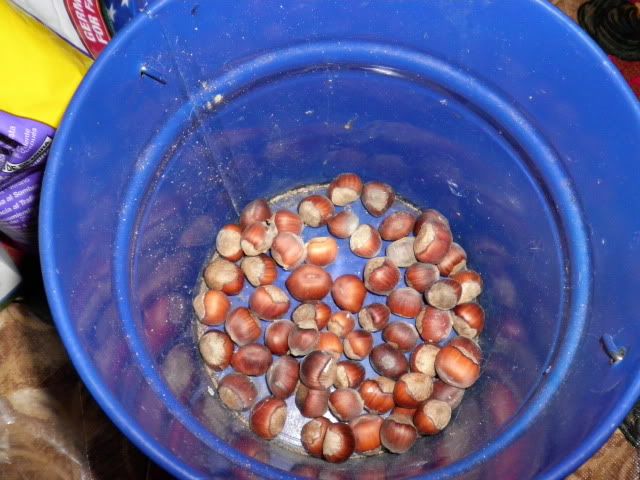 These are the very first ones. I noticed a few had opened up so snatched them up before they fell. There will be enough to probably fill this bucket later. I would like to see if I can make hazelnut butter with them.
Do they have to water the garden?
Do they have to fight with the pig to get his feed dish back and nailed back on?
Do they have to move baby quail out to their greenhouse?
Do they have to secure their pens so baby chicks don't get out and eaten?
Anyway, that is what I did this weekend. It wasn't busy all the time though, I did watch almost a whole movie yesterday evening.