Yesterday it was time to do some meat grinding. I had two large bags of meat pieces that I had to make into something, and I had a whole two hours in between taking Michelle to school and taking myself to work. I got out the little meat grinder that I got from the thrift store and got started.
We all have gotten a bit bored with eating pork. I tend to not be too adventurous with my cooking now that I have to take Michelle to school in the mornings. It really chops up the few hours I have in the morning into "unusable" pieces so I tend not to get a lot done and supper has suffered because of it. So I decided to kill a couple of birds with one stone. I ground up the first bag and put some in a bag just the way it was to use in stroganoff instead of hamburger (which I don't have). One bag of pork burger:
I took a couple pound of it to make a meat loaf. I added bread crumbs, onion, pepper, eggs and homemade ketchup.
And I took some of it and made it into meatballs for spaghetti or subs. I added bread crumbs, egg, onion, garlic, Italian seasoning.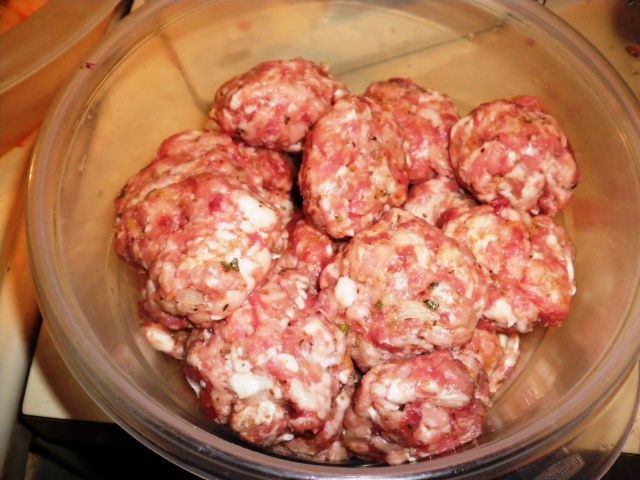 The second bag of meat pieces was all made into sausage. I made the spices sausage. I have already posted the recipe for it but it involves brown sugar, salt, pepper,thyme, sage, rosemary, cayenne pepper and red pepper flakes. Sorry I forgot to take a picture until it was bagged and in the freezer but there are 5 bags, each with 4 patties in them (Last time I piled them on top of each other in the bag with waxed paper between them. That was a mistake as we could not get them apart again).
A little clean up and then it was time to go to work.