So after seeing
Daphne
do the Fridge Challenge, posted at the
From Seed to Table
blog, I decided to take them up on it. By the way their nice clean, neat fridges just make me sick. You aren't going to find a nice clean neat fridge here, sorry, not today anyway. But since the challenge was to just go take a picture, that is what I did. Don't worry it isn't too scary because we had to clean it out some to put the bacon and hams in.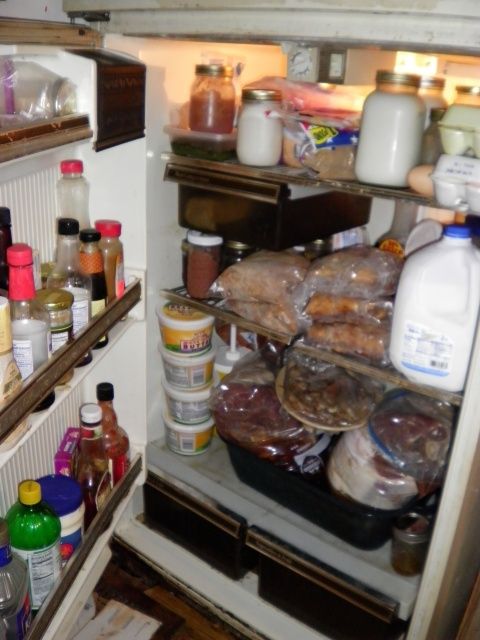 Yeah the door just plain doesn't open all the way because- not only is the fridge trying to fall through the floor- but there is a vent in front of it that didn't quite fit down past the tile and just hasn't been fixed. Anyway, on the bottom are the hams in their bags of brine. Beside it are the butter containers of bacon grease and I think the top one is butter, on the other side of the hams is a jar of hot pepper relish (by the way, it was very good but only slightly hot even with all those hot peppers that were in it). On top of the hams are a few leftovers of the roast that had no where else to go.Behind the hams are jars of lard and miscellaneous other crap (ok, I really don't know what is back there).
On the second shelf are several jars of stuff, probably half of which need to be tossed, behind the milk is Michelle's jug of tea, more jars of lard and whatever. And in the center is, of course, the bacon. I have managed to shove three of them in small open spaces in either of the freezers. I, somehow, have to get the rest of it in but we just aren't eating fast enough! I will likely switch it this weekend with the rest of the bacon that needs to be cured and smoked.
On the top shelf are the eggs (one was so big it wouldn't fit in the cartons). Normally there are about 4 cartons up there but we used a lot in the pig killing and the chickens have been a bit slack lately. There are more jars of lard up there and a jar of yogurt and a container of pesto that we haven't used yet. I am not sure what is in the jar on top of the pesto. In the center is Michelle's sandwich meat. Behind that could be anything.
The drawer in the middle is Phil's. I don't venture in that drawer-ever. The bottom drawers are empty. One we can't open because of the door not opening and the other is reserved for the weekend cans of beer.
In the door are various things, most of which are seldom used except the lemon juice and jar of garlic. Phil uses the ketchup some. That ketchup container is filled with homemade ketchup, of course.
So there you have it, our fridge. NOT a real exciting post, I know but my allergies kicked in yesterday-like I need more sinus trouble- and this looked like an easy post to do. I am feeling quite a bit better today though, if I could just get my ears to clear so I could hear, I would be alright. So come on and take the challenge..seeing a few more clean fridges might just get me to work on mine :)