Before we start I want you to understand that you are reading about a back yard butchering. Keep any ugly comments to yourself. I am exhausted and probably won't take it well.
It started out kind of bad. To begin with Phil's back had been hurting last week but for the last few days it had been feeling better until he went to get my brother this morning. He stopped to get coffee an bent over and he really threw out back. We had hoped to have more help with the butchering than just my brother but they didn't show up which meant Phil was going to have to lift but the pig had to be done. When we taped him the pig came out at 365 lbs. That is give or take 5 lbs so he was 360-370 lbs. In other words, entirely too big.
The first shot with the .22 just made the hog shake his head. That was amazing. We waited for him to fall, he just wandered around trying to eat things in the back yard. It didn't seem to phase him a bit. The second shot, didn't drop him either but it stung apparently and then he was wary of us. We had him in the back yard since my brother, Rob, was the only help who showed up and we knew the hog was too big for us to carry from the pens to the back yard with just the three of us. We only had 3 bullets for the .22 that we borrowed from my friend. My brother shot him the last time and finally dropped him which was good because Phil would have had to get the 30 30 after that.
I stuck him and got a good stick and he bled out really well. The hanging was an issue however. We had reinforced the original wood to hang him on with a 2 X 4. That part worked really well but the cable slipped out of its clamp when he was half way up causing the pig to fall. Luckily Phil was not hurt by the pig or the cable.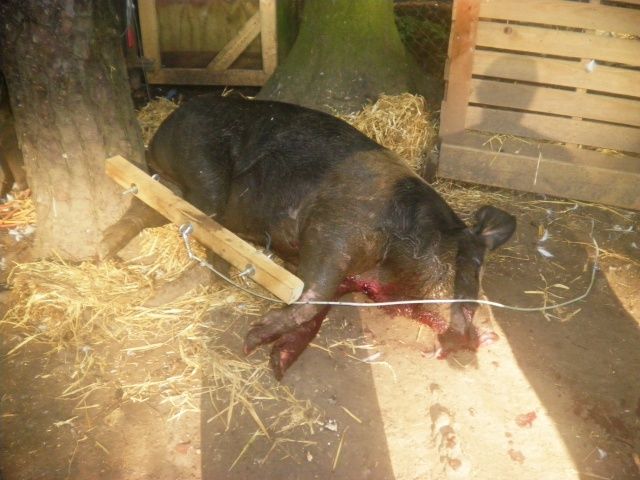 The cable had a plastic coating on it which probably cause it to slip under the weight so Phil stripped off the coating and put two clamps on instead of one and we tried again.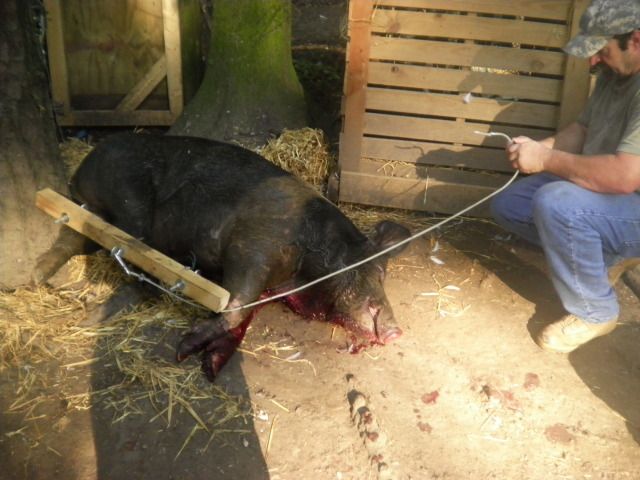 This time he went up all the way, or as much as we could get him up. This hog was a bit too long.
Phil washed the pig off...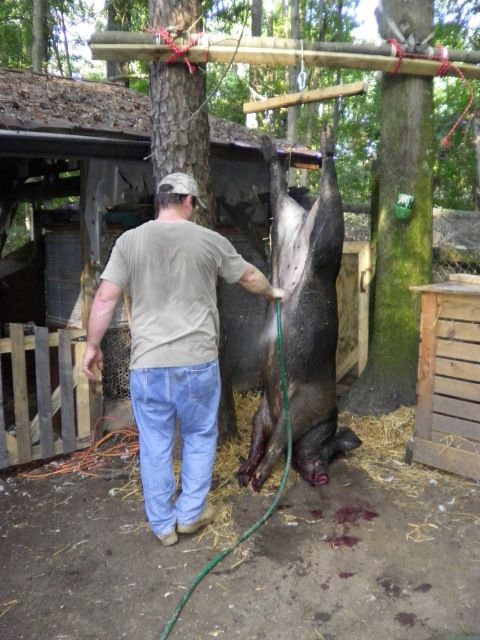 Then it was time for the skinning. It is the part that takes the longest. I wouldn't mind being able to scald the hog but that just isn't possible here at home. So we skinned...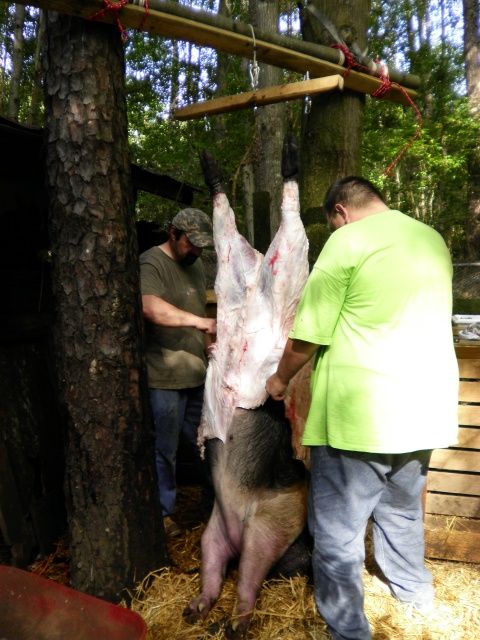 and skinned...
and skinned until he was finally done.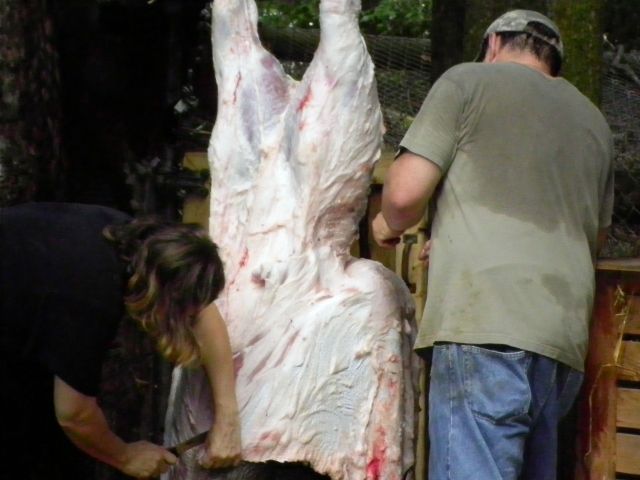 My brother then started the gutting and when he got tired I finished it off by getting everything out and getting the liver and lungs out. Unfortunately I had an problem cutting the bile sack off of the liver and ended up ruining it. No big deal, we still have liver left from the first hog but I was irritated with myself.
It was then time to get out the saws-all. We cut this hog in half since moving him whole was not an option. We then cut the head off.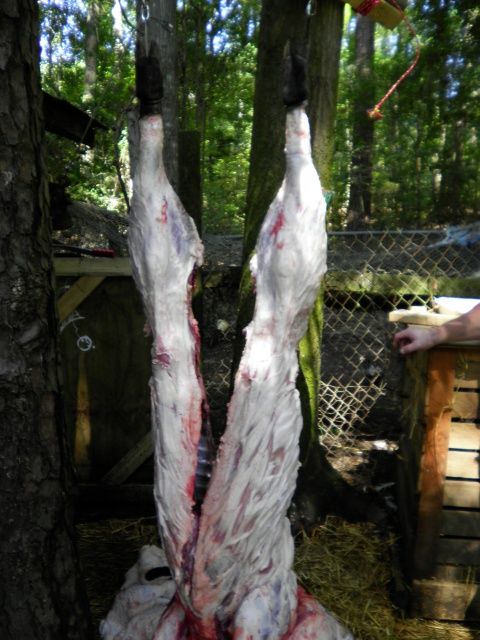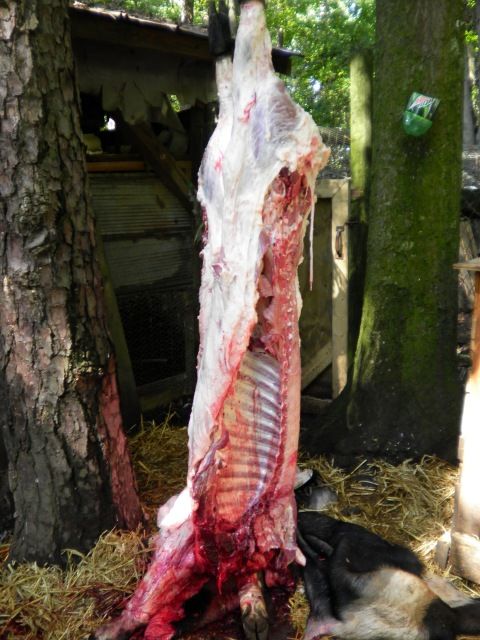 We had to lift these onto the butchering table which was still almost more than the three of us could lift. Then I cut them up. Sorry, I forgot to have anyone take pictures of my cutting them up. I was getting tired.
The first cooler: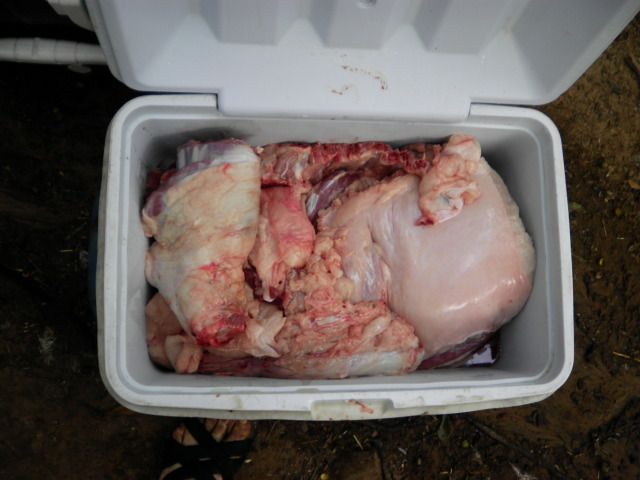 The second cooler:
And the big cooler: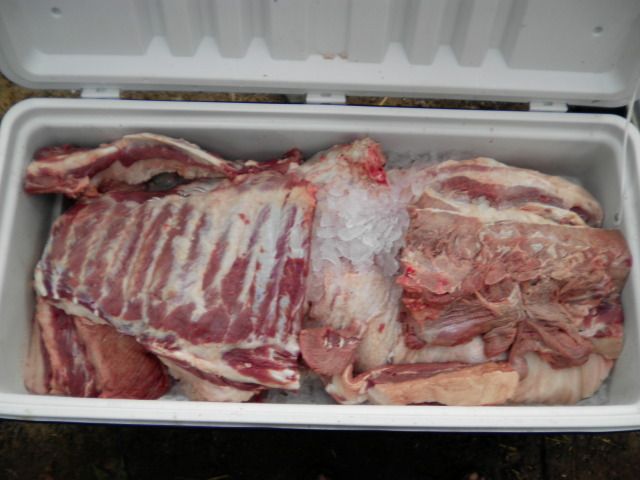 They have all had ice added and were put in the house (that in itself was a hard job for the 3 of us). One of the hams didn't even fit in the coolers. It was cut in half and put in 2 gallon ziplock bags (2 bags because there is no way you could zip the first bag so another was put on top) and put in the refrigerator.
Phil took Rob home and I started the digging the hole for the unwanted "leftovers". You don't just take a shovel out and dig, you take the shovel and the pick and you go an inch at a time through this red clay. I got it started and came in to cool off and fell asleep. Phil finished it when he got home.