I have wanted to try those LED bulbs for a while now but they were so EXPENSIVE but the other day Michelle was putting in an order on Amazon that came to a few dollars under the $25 where she could get free shipping so she wanted me to order something (and save herself some money, of course). I looked at the stuff I had one my wishlist but didn't really want anything except the LED bulb and figured if I was going to get something it might as well be something I want that is useful so I ordered a bulb. It was $9.25 (yes, I know that is terrible but I wanted to try it).
Throughout the house we have fluorescent bulbs except in the bathroom because I ran out and it had an incandescent bulb. The LED bulb that I ordered said it was equal to a 50 watt incandescent. I was doubtful because I remembered when the fluorescent bulbs came out and how dim they were at that time.
The bulb came in today.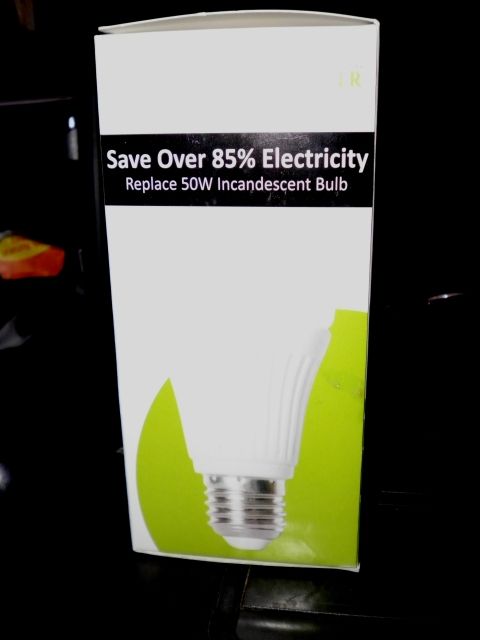 I will say this, the bulbs are heavy and feel a whole lot sturdier than an incandescent or fluorescent bulb. I switched out the bulb in the bathroom and was pleasantly surprised. It really does seem at least as bright as a 50 watt bulb and it does have a nice white light to it.
The side of the box says to run it 3 hours a day would be $.72 yearly (depending upon rates, so that could mean anything) and the life expectancy if run 3 hours a day is 18.26 years. I don't know how long we actually run our bathroom light every day it might be 3 hours but I doubt it.
Now if we could just get the price down a bit, I would slowly replace my fluorescent bulbs with these.