While looking through the wine recipes I found one for
lemon balm wine
! I don't quite have all the stuff this recipe calls for so I have made some adjustment and in case it turns out to be a really good wine, I want to make note of my recipe. Right now mine is sitting for the 8-10 hours so I will add the yeast at 9:00-10:00 p.m. tonight. If this turns out to make a good wine I will have a great use for all my lemon balm and be able to make a lot of wine!
Approx.4- 6 cups of lemon balm sprigs cut up (stems and all)
1/3 cup lemon juice
Approx. 1/2 cup golden raisin, chopped
1 quart water
7 pints water
4 cups sugar
1 tsp. yeast nutrient
1/4 tsp. pectic enzyme
From here you follow the recipe's direction but with just a few changes.
Rinse and clean lemon balm and then chop leaves and stems coarsely. Put into 2-qt saucepan with lid.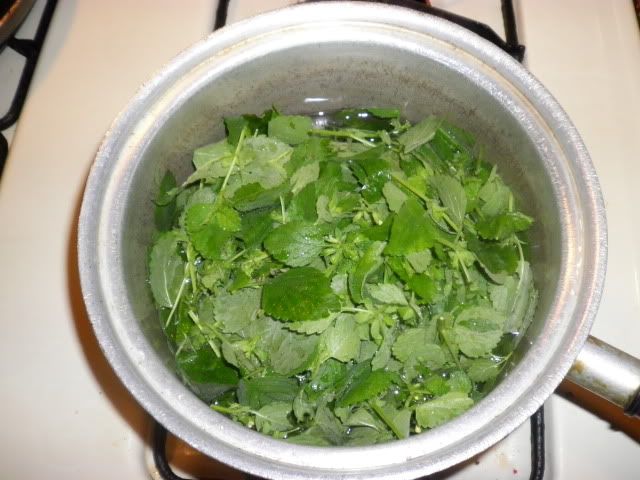 Add 1 quart water, bring to a boil, put lid on pan, and turn off heat. Let steep for 2 hours.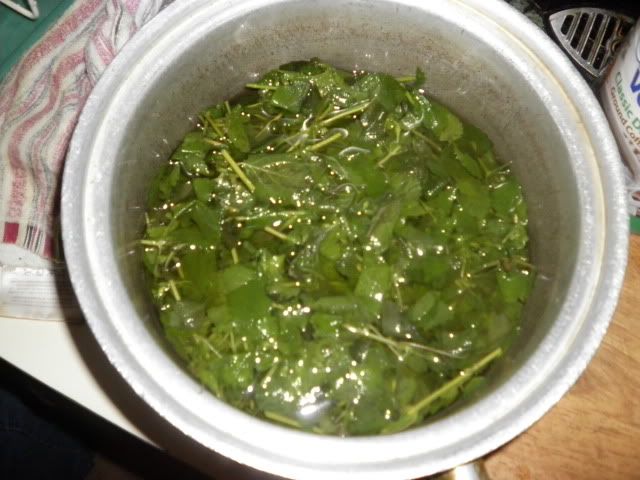 Meanwhile, boil remaining water and dissolve sugar, add chopped raisins and lemon juice (this smelled quite wonderful).
Pour into primary and allow to cool to room temperature. Strain lemon balm and add water to primary. Stir in pectic enzyme and yeast nutrient. Cover and set aside for 8-10 hours.
Add activated yeast, recover, and stir daily for 6 days. Transfer to secondary and fit with airlock. Rack, top up and refit airlock after 30 days and again after wine clears. Stabilize and sweeten to taste if desired. Bulk age under airlock for 3 months and taste. If wine has not smoothed out, age another 3 months. Rack into bottles and serve chilled.
This is only going to make about a gallon but that is enough to just try it out the first time.