I won't say for sure on the jelly until it actually jells because we all know I am so much better at making syrup than I am at making jelly.
I posted this recipe on the forum at the beginning of this month and then Paula tried the recipe and highly recommended it and although I don't have zucchini growing right now I did find five large ones in the store today that I felt would work for the
recipe
. I just peeled them, scooped out the seeds with a spoon and then cut them in chunks.
You then put them in a pan with the pineapple juice, lemon juice, and sugar and cook them for 20 minutes.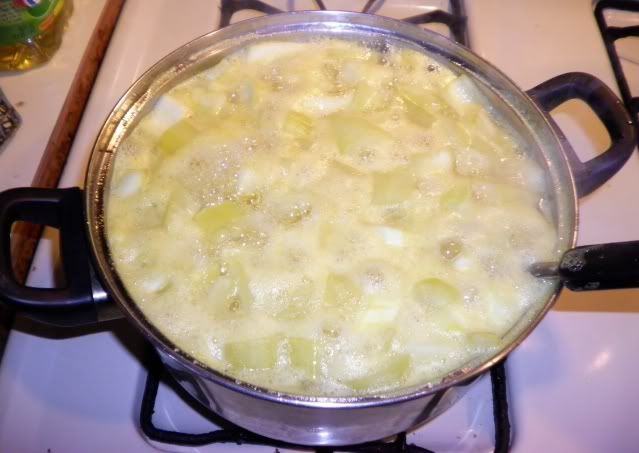 Put it in the jars and water bath can for the 15 minutes. My 5 big zucchini only made 3 pints with a lot of juice left and the blog with the recipe said just use pectin and make it into jelly. I was a bit skeptical but went ahead and got out the Sure-Jell and went ahead and tried it. Will let you know if it jells.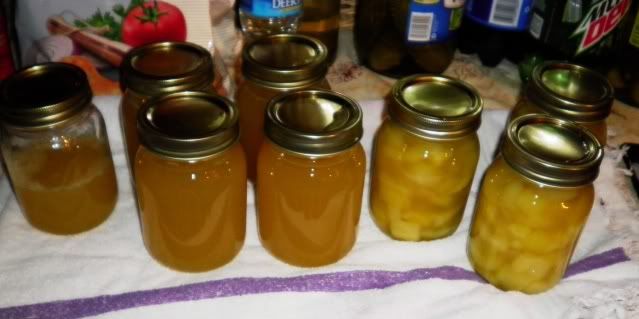 I still have Michelle's cakes to make. I am going to make a couple of pizza cakes. They called for Fruit Roll-Ups to make the pepperoni out of but there seem to be no Fruit Roll-Ups in the stores anymore so I am making strawberry fruit leather and hoping it turns out good and I can use it instead. We'll see.
This is my second post today so if you missed the pink lemonade wine post see the post below this one.