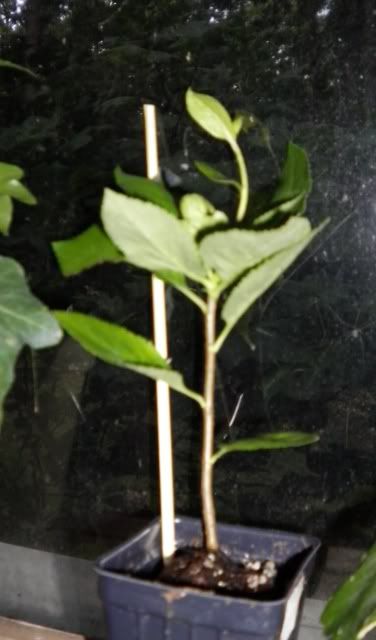 This is my new chokeberry bush. I bought it off of eBay and I am very happy with my purchase. Yes, that is a one inch pot and the "bush" is very small. It costs me with shipping approx. $8. That might seem a lot for such a tiny plant but I have never seen a chokeberry bush for sale anywhere that I have lived so I think it is a deal.
So why buy a chokeberry? It was really simple. There was another plant that I bought (probably the next blog post) and the plants were cheap but the shipping was $6.99 (plants have to go priority) but the seller had a deal for a second plant shipped for only $ .50. This was my second plant. I just hate to waste a good deal.
So what are chokeberries good for? Well, they produce tart black berries that are good in jams and jellies but I don't need any jams and jellies, however, what they are also supposed to be good for is ....
wine!
Yeah, I bought it to see if I could get enough berries to make wine with it.
For some great information on chokeberry please see
this site
. I could tell you the information but have no first hand experience since this will be my first time growing a chokeberry bush.
I want to give the eBay seller credit here. I have bought from them before and have always received great plants. It is pretty hard to send a plant through the USPS and
Wellsprings Garden
does it really well. I don't know them, I have just bought plants from them.
I am thinking I will plant this in a pot at first. Not sure if I will leave it in the greenhouse (which seems to have a slug or snail problem, plus a few chick (ens) that keep getting loose--you would think they would take care of the slug or snails but I am not sure if they have or not) or if I will leave it in the yard. I am thinking it might need some cold in the winter so it may be best to leave it outside.
Anyway, I will, of course, keep you all posted on its progress.