I have two posts for you all today and I was going to do it all in one post but decided some people might want to see the carrot canning and not the quail butchering so I'll do it in two.
I didn't need any more carrots. I have plenty of baby carrots canned already but when I left the Club on Friday I was given a whole bunch of carrots and broccoli that the kids hadn't eaten. (Sorry pictures are still being done with the phone).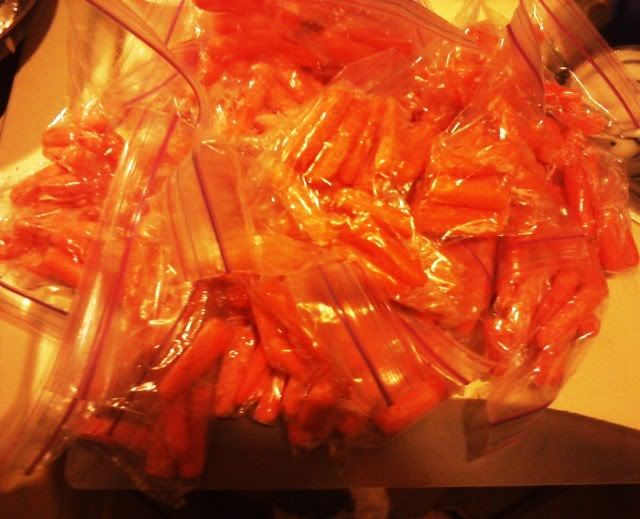 They know I have animals and they give me whatever is out of date or looking a bit off for me to feed to the animals. These however were perfectly good, they just wouldn't last through our week off. I did not give them to the animals. The broccoli I blanched and froze and it made two bags/meals for us. The carrots, however, were waiting for me this morning (when I remembered them). I could have saved myself some work and just canned them like they were but since I already had many jars of whole baby carrots, I decided to slice these.
I, of course, couldn't find the canning book that I usually use but I found my Ball Blue Book so all was well. Then I went looking for jars. I thought I had a bunch of pint jars but had to really look to find 9 of them to make a canner full.
There were a lot of carrots. My first pan didn't turn out to be big enough and I had to get another.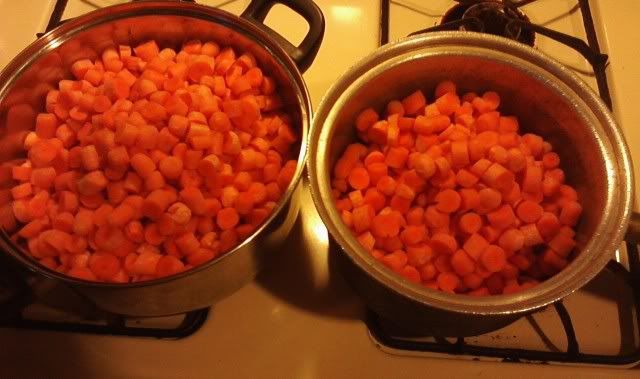 I'm not going to go through the whole method, you can read that in any canning book. I'll just say I hot packed them put them in my assorted jars and pressure canned them the 25 minutes.
There were still enough carrots left that I had to get a ziplock bag and freeze one bag.