I know you could probably care less what is in my yard today but I really haven't done anything except work this week and I am sure you don't want to see baby quail again so here is my walk around the yard this morning.
We'll start with this rose. This little rose bush has struggled along but has not bloomed in years. It sits beside the driveway and for a while just kind of got trampled and once Phil mistakenly cut it down with the weed-wacker but this year it has grown enough to get one bloom. It's spot in the yard is more protected now as other things have grown up around it. It is a very nice smelling rose too.
Here are a couple of the Rose of Sharon. Rose of Sharon is nearly a weed here. These I got from a couple neighbors who were more than glad to give them away. They didn't even know what they were called but had lots of them. They seed everywhere and even now I have lots of little sprouts that need to be cut down or given away.
There is a couple purplish ones and a more pink one. I know I used to have a white one but it either is not in bloom or is gone now.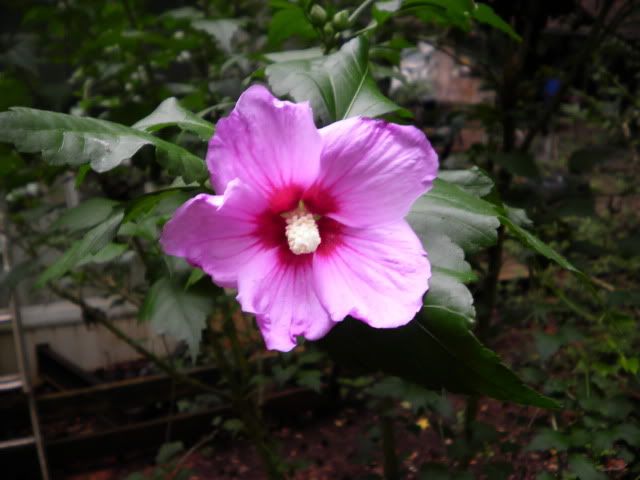 Here are some more 4 o'clocks escaping the front flower bed. I am tempted to pull everything out of this bed and plant something edible in it but for some reason Michelle likes this flower bed.
The fig trees have grown quite large now. I believe both will have to be cut back this fall before they get out of hand.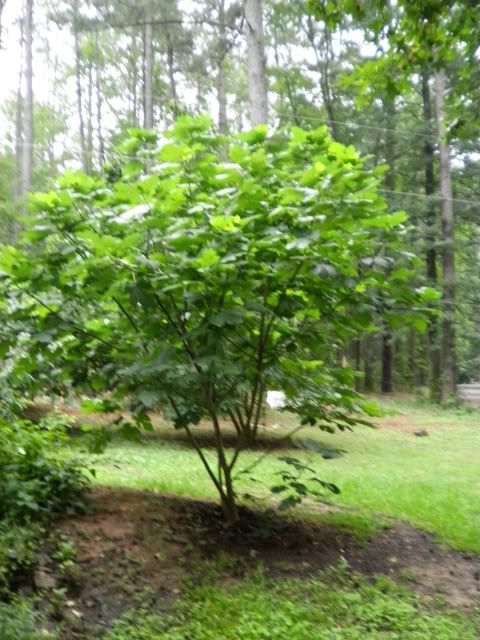 Also huge are the banana trees this year. By the way, the bloom fell off in one of the storms we had. I believe I will have to separate some of the bananas this winter (if we actually have a winter this year) and move some of them. I wanted a few banana trees to shade this side of the house but I didn't want a whole banana grove.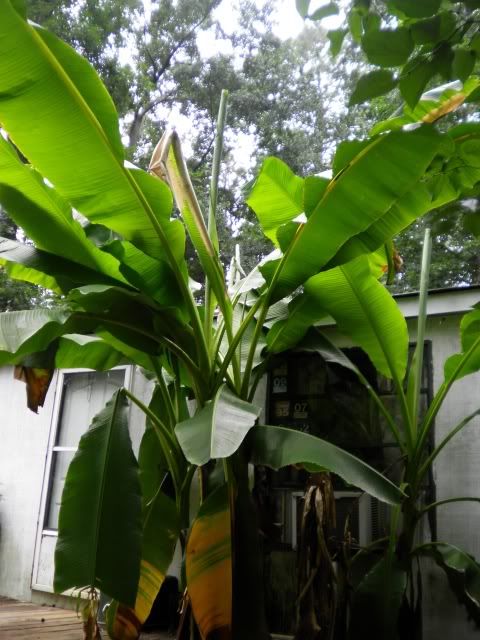 Here is the picture of one of the hazelnut burls. The hazelnut bushes are perfect for growing here. They seem to have no bug or disease problems and grow really fast. I will have to cut some of these back this year as well since these are planted beside the driveway and I have to walk through branches to get in the car.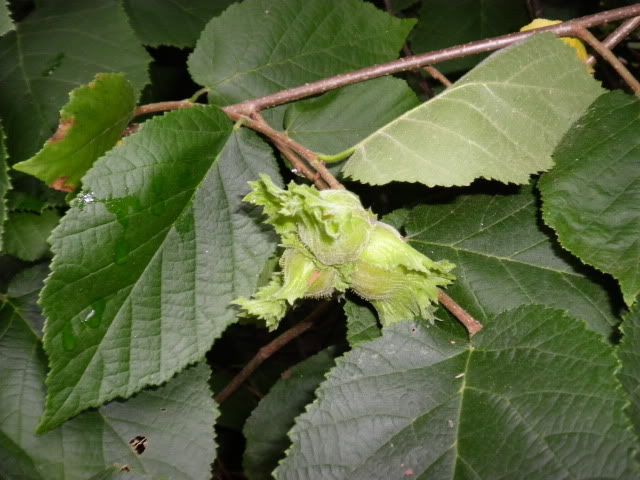 Here is another shot of the Meyer lemon. There are one five little lemons on it this size the rest are smaller.
These aren't actually in my yard but just a few steps up the road, beside the road. These are the wild muscadine grapes. They are the ones that will turn purple when they are ripe.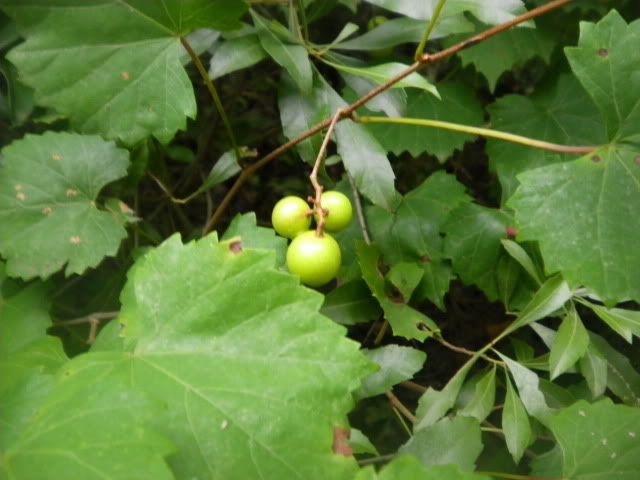 As you can see they don't grow like other grapes. No big clusters just a few here and a few there.
Over by Dukey's run you will see this:
This is one of the dead trees that fell in the last storm. I am really surprised that we didn't hear this one fall. That is one tree. The top broke off and fell then the bottom broke too and fell beside it. Dukey was in his doghouse I am sure since he doesn't appreciate rain and storms much.
And lastly this is the wonderful pile beside the driveway where Phil parks his truck (we have two driveways).
This may seem like junk to some people (well the tire is junk) but this is the beginning of my new fence in the back yard. You all will have to wait for that post though.
Anyway that is the walk through my yard this morning. I had a terrible time taking pictures as it has rained for 3 days in a row and it is so humid that the lense kept fogging up.