Remember my garden plan?
Well....didn't happen, not really. A few things are in the right place. There are sunflowers and tomatoes in the first bed on the left though no corn. In the second bed there are tomatoes and peppers and the bottom bed had the garlic in it so long that it ended up with tomatoes and peppers on one side and beans on that other. The top two small beds...well, only one of those got built and it ended up with pink blueberries in it and one pepper plant (I couldn't find room for the pepper plant anywhere else). The middle bed got lettuce and radishes to start with and now has herbs and carrots in it. The bottom bed in the middle row has the potatoes. As for the long bed on the right. It did end up with squash but only one grew well so I bought a few more to put in the with it. It also ended up with the onions and some cucumbers which I just planted behind the squash.
The tomatoes are what I am the most impressed with this year. I grew heirlooms from seed, Tip Top, Taxi and San Marzano (all determinate) but then I needed a few more so bought some Celebrity. My plants didn't look nearly as good as the store bought ones until I put them out in the garden. It is hard for me to get a good picture to show you the size difference.
________________________________________________________________________________
Well, there it is, I knew there had to be a catch to this upgrade. I had just purchased more storage space for photos for $5 a year, and they happily took my money and now they have changed the plan and I am suddenly OUT OF space AGAIN! OOOooo, that irritates me! Of course now there is a
monthly
fee! Not gonna happen, I can still use photobucket for free.
_________________________________________________________________________________
This is a picture of one of the store bought Celebrity tomatoes. It is barely up to the second ring on the tomato cage.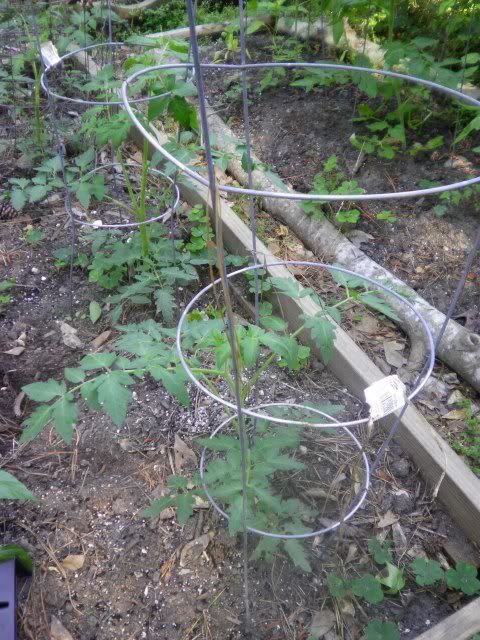 This is a picture of one of the heirloom tomatoes that I started myself. It is in a larger tomato cage and is at least 6 inches taller than the Celebrity tomato.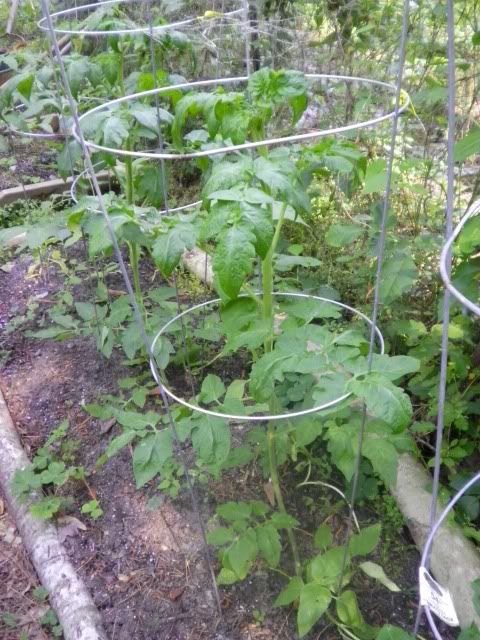 This one is a lot harder to see than I had hoped. That small tomato in front is the Celebrity. It only goes to the second ring, it looks like it is growing up to the third ring but that is the heirloom tomato behind it.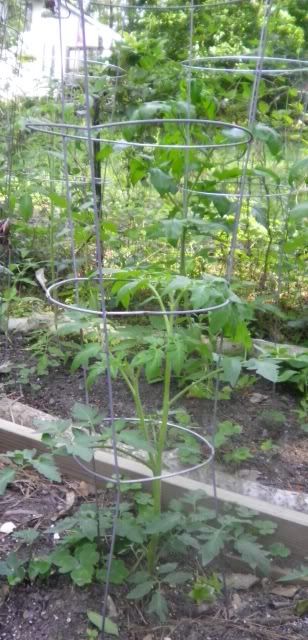 Not only are the heirlooms taller but they are much thicker in the stems as well plus all of the heirloom are blooming already. This is really kind of a surprise for me because I have grown LOTS of heirloom tomatoes and they have never done well at all until this year--got to be the raised bed :)