Not likely. Mulberries grow on trees, big trees. Well, maybe not big as in...black walnut but you aren't going to just go out there and pick the berries off of it. Not without a ladder and a pretty big ladder at that.
I was amazed at the first mulberry tree I saw here. I really did actually think mulberries had to come in the form of a bush because of the children's song, of course. But my neighbor here has a mulberry tree and hers was the first I had ever seen. It is a rather huge tree that sits beside the dirt road in her front yard. She is quite proud of it though it is too big for anyone to ever reach the berries on it.
About a year after we moved in here I realized we had our own mulberry "bushes". One cropped up in the front yard. I cut it down. It came back. I cut it again. It came back. This is where I learned how tough the mulberry trees are. I must have cut that tree (and it was quite small) back 10 times and I mean right down to the ground and it came back every time. Then I started school and work and it got ahead of me. They grow incredibly fast! We now have a rather large mulberry tree, competing with the dogwood tree and one other for space in the smaller part of the front yard. (I have not identified that other tree but it grew even faster than the mulberry). The three of them provide some nice shade for the swing that is out there.
There are several different kinds of mulberries (morus) trees but the kinds we have here are either the native red mulberry (morus rubra) or the white mulberry (morus alba) which is an Asian species brought here to feed silk worms industry which never, apparently, materialized. The red mulberry is in danger because of hybridization with the white mulberry. I have no idea exactly which species we have here.
The berries are supposed to appear in small clusters of 2 or 3 but ours are almost always single berries and not a whole lot of them. I bet our tree doesn't have more than 25 or 30 berries on it- if that. They start out a greenish white and then turn redder to a dark purple just like a blackberry does. They taste quite like a blackberry as well but they do have a stronger flavor which is hard to describe.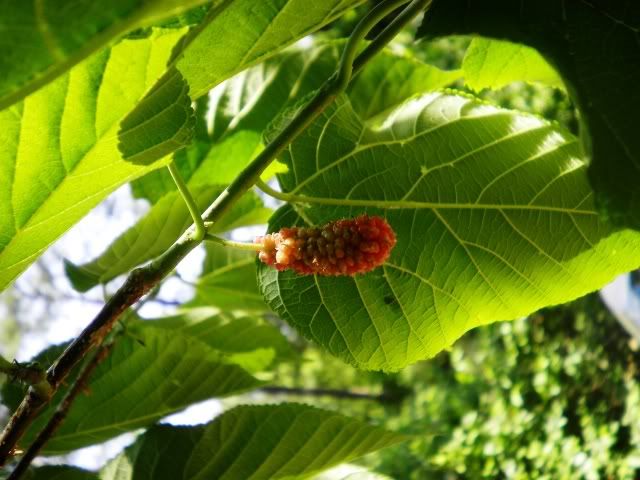 I got lucky to find one branch drooping low enough so that when I raised the camera as far as I could I got a picture of one of the berries. It is obviously not ripe yet.
The leaves on a mulberry tree are rather strange. They start out lobed and then as the branch gets bigger they are no longer lobed and the sides are just tear drop like (well not really but I don't know how to describe it--leaf shaped, lol).
Here is a picture I took of the lobed leaves on some of the shorter branches but if you look to the bottom you can see how some of the other leaves aren't lobed.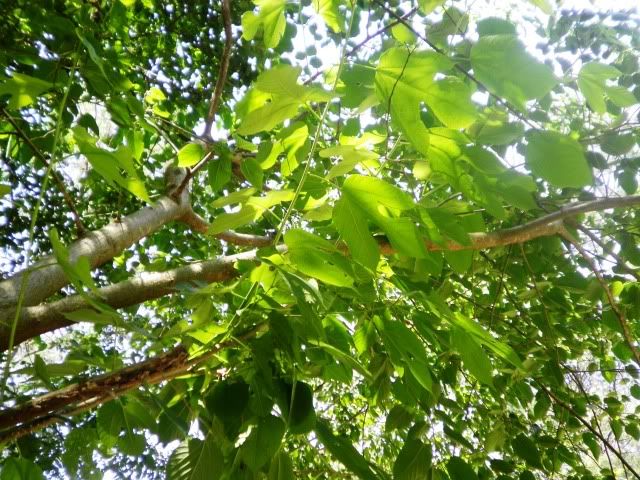 I do collect what berries I can reach but it is usually not more than a couple which are eaten right then. The birds and squirrels get the rest.
I am not done with my fight against mulberries however. Mulberry trees grow from seed and a seed has made its way to the back yard. If you look at this picture of the rose bush that I posted the other day you can see a few lobed leaves to the right. This is right in the middle of the back yard.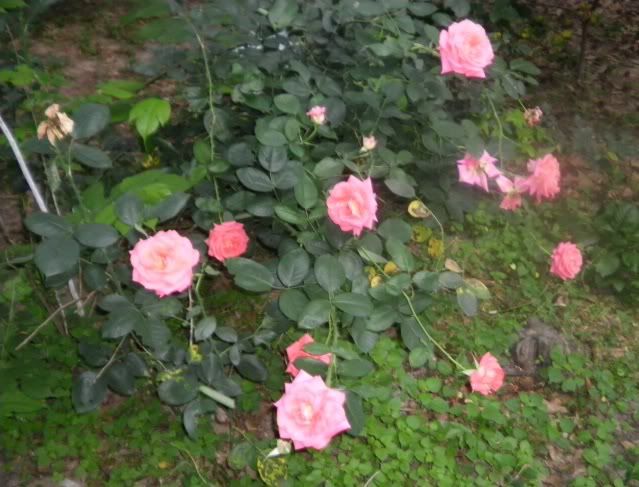 I'll just keep cutting it, I suppose.