If you follow on Facebook you will know that I got a
"seed of the month" club
deal on black Friday. The deal was 6 months for $9.06. You get 8 packages of seeds the first month and 4 ever month afterwards.
I really didn't know what to expect having never joined a seed of the month club though I have always wanted to try it. My hopes were that it would be a mix of regular vegetable and more unusual vegetables.
This was my first shipment: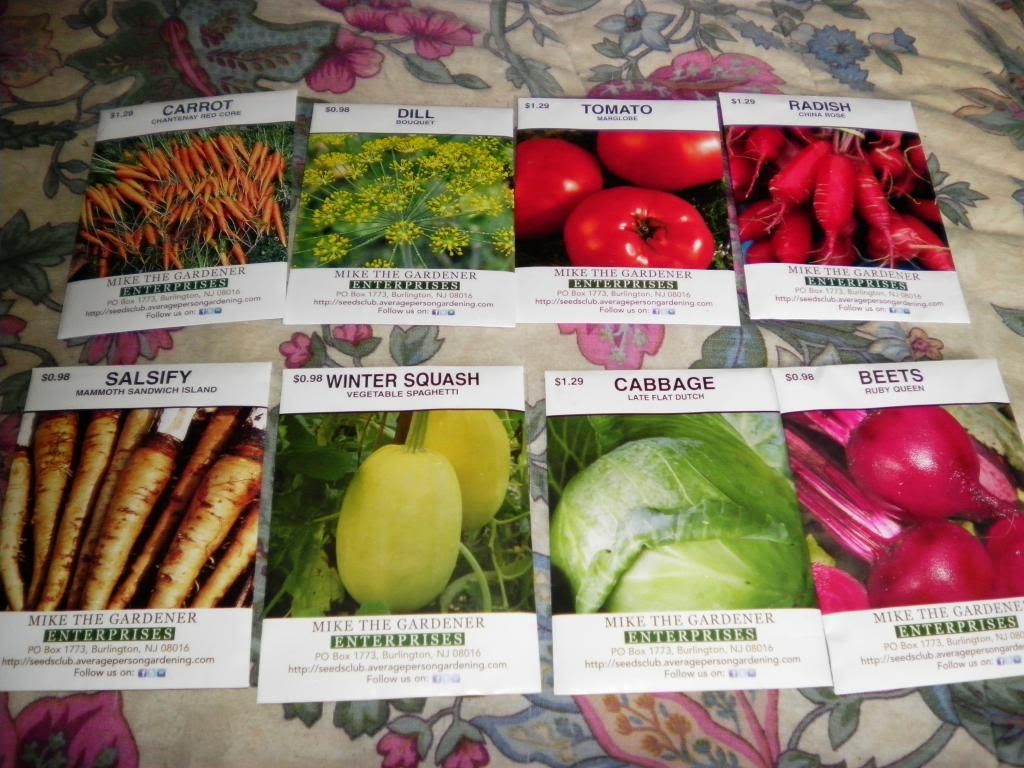 The seed are:
Beets- Ruby Queen
Cabbage- Late Flat Dutch
Radish- China Rose
Salisify- Mammoth Sandwich Island
Carrots- Chantenay Red Core
Dill- Bouquet
Winter Squash- Vegetable Spaghetti
Tomato- Marglobe
They are supposed to be seeds of things that I can actually plant this time of year. Of the seeds sent to me I see three that I can plant now..possibly 4 as I don't know about the salsify. There are a LOT of things that can be planted here in the winter-- lots of varieties of lettuce, cabbage, cauliflower, broccoli, brussel sprouts, spinach, mustard greens, turnip, kale, beets, radishes, rutabaga etc. So I was rather disappointed to end up with 4 packages of seeds I can't plant now, although I can start the tomatoes in a few months. After looking over their site better I find they really don't have a whole lot to choose from but there are 16 types of lettuce.
Also almost all of the seeds were 2012 except the Marglobe tomatoes which were 2011 and the dill which was 2010. I just didn't think we would get seeds that are a year or two old.
However considering the low price that I am getting these seeds for and the fact that I find it really fun to get a surprise seed package in the mail, this was definitely worth it though I am not sure I would pay the normal $3.08 per month.