Today was all about deer meat here but since I mentioned the violin on facebook, I will save the deer meat post for tomorrow. I should have some finished jerky to photograph but then anyway.
When I was a child in 4th grade, for one year, I took violin lessons in school. Our school had their own violins and trumpets so my brother and I were able to play without having to buy an instrument (he played trumpet). I can't say that I was all that good at it. I never did understand how to read notes. Our teacher must have explained it to us but all I remember is that she took us step by step through the first selection that we were to play. She told us the string and how many fingers and apparently we were supposed to just know the notes after that. I never did.
However, all these years I have wanted to play the violin again. To see one, anywhere, made me long for it but I never could afford one...until now. Not because I have so much money now but because there are cheap violins on eBay now and that is what I got as an early Christmas gift.
It actually came in on my birthday Dec. 8th but I didn't get the tuner until several days afterwards and then I broke the fine tuner on the E string the first time I tried to tune it because they are just plain made cheaply. So Phil took it in to a music store in Augusta with him and they replace the tuners with nice metal ones.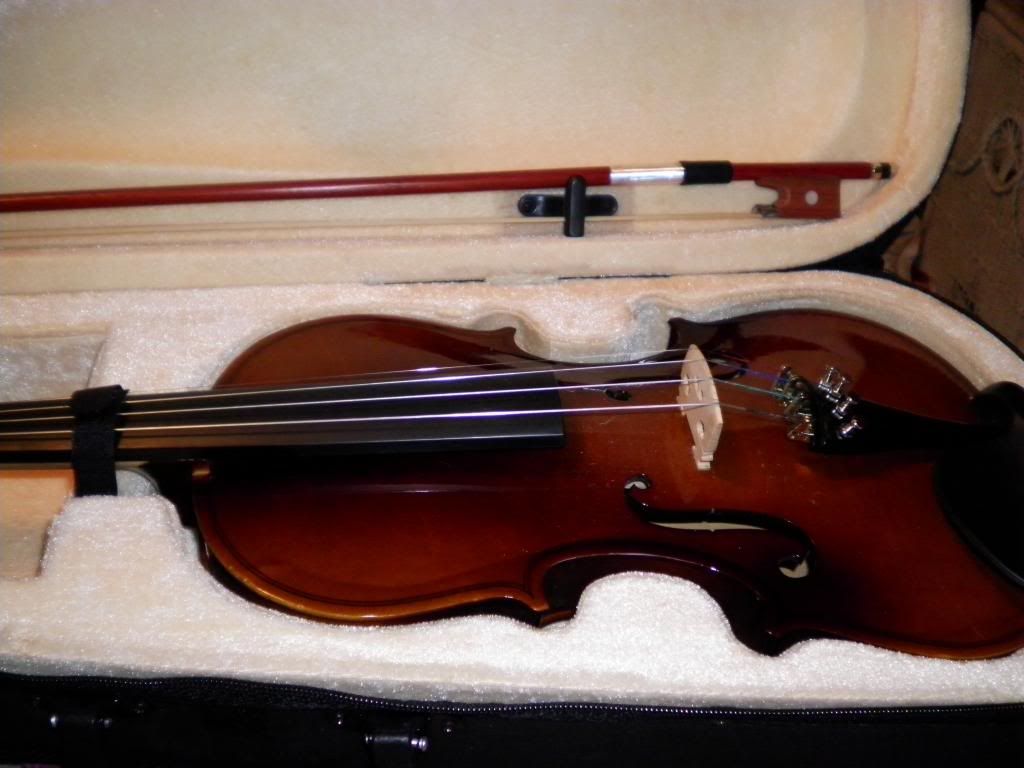 I remember very little about how to play the violin. I know how to hold the bow and the violin properly but other than that I don't know a thing. I bought several books to help me get started. I practice every day and I love it. Oh, I'm terrible right now but I am slowly getting better and best of all I understand how to read the notes now.
For Christmas Phil gave me a nice stand and a very nice binder to hold the sheets of music. I don't know as I'll ever get really good at it but I truly enjoy it anyway.