Inspiration for tonight's dinner meal came from a cookbook that I found at the thrift store today called: All Time Family Favorites Casseroles and One-Dish Meals. This one was actually supposed to be baked but we don't really bake here in the summer if we can help it so I have put this together in the crock pot, of course, with a few changes.
1 lb to a 1 1/2 lb beef strips
Peppers- I used one orange bell that I had and two Jimmy Nardello sweet green peppers
Approx. half an onion diced
1 clove of garlic, crushed and diced
1 tsp chili powder
1 cup instant rice
1 of the little cans of tomato sauce (sorry I don't have the weight, but not the regular can, the little one)
Approx 3/4 cup frozen peas
salt and pepper
Put everything except rice in the crock pot and cook for 4-5 hours. Approximately a half hour before you want to eat, add the rice. Cook until rice is done.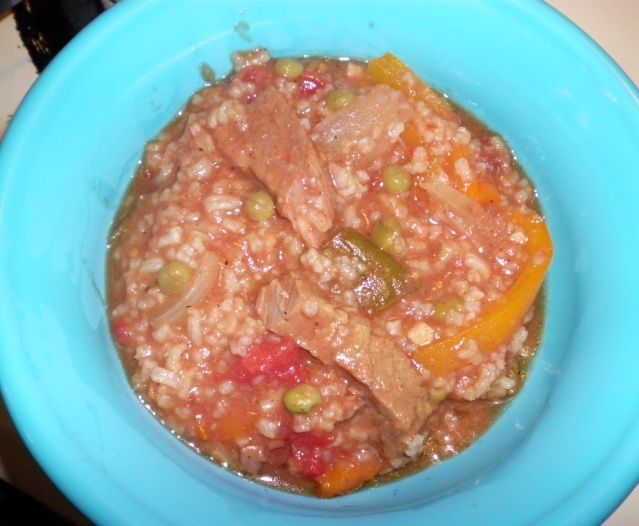 It was pretty good though I am not sure it was good enough to cook it again. The baked version would have likely been better. The book is good though and I hope to try out several more recipes. I need crock pot and easy recipes to do for supper now that our hours at work have changed back and I get off at 7:00 p.m. again.
In other news, the pig butchering was supposed to be tomorrow but none one could make it. We have rescheduled for next weekend and we will be doing the pig whether anyone comes or not. He HAS to be done! Right now feeding him is just wasting money.