Because sometimes your neighbor gives you several eggplant that you are so thankful to get but have no idea what to do with..
Phil won't touch it because one year I grew eggplant and it did produce and I made eggplant fries which we dipped in spaghetti sauce and Phil ate an absolute ton of the stuff and could not figure out why he had "problems" the next day....humm...it must be the eggplant!
So whatever I made had to be something I could can and would last until I could eat it. I went searching for recipes and found eggplant salsa. Everybody loves salsa.
I, of course, changed the recipe to suit what I had on hand. This is a two day process.
On the first day I diced up the 5 eggplant (some were quite small) as you can see in the picture so if you have all large eggplant adjust accordingly.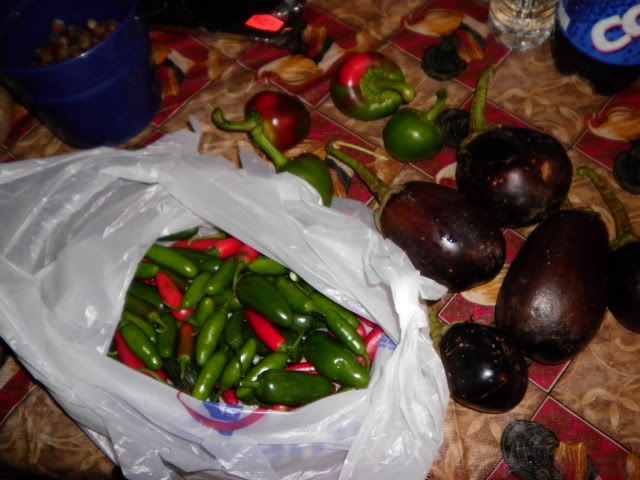 I used two of those small bell peppers, and one large onion that I had, all diced. I put them in a bowl last night with a 1/4 cup of pickling salt and let them set in the refrigerator all night and most of the day until I got home from work.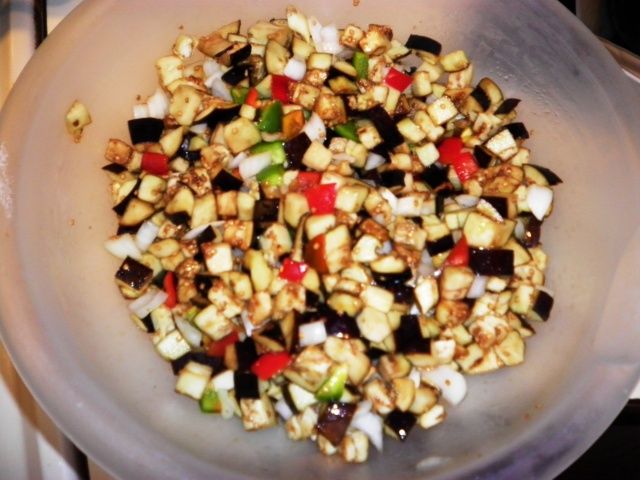 I then rinsed them really well and put them in a good sized pot. I added:
1/2 tsp dry mustard
1 1/2 tsp. chopped garlic
1/2 tsp cumin
1 1/2 cups white vinegar
1/2 cup brown sugar
1/2 tsp. pepper
1-28 oz. can crushed tomatoes
1-28 oz. can diced tomatoes
5 jalapeno peppers (I had 3 red ones and 2 green)
I brought the pot to a boil and then turned it down to simmer for 25 minutes. I then water bath canned it for 15 minutes. I got 6 pints exactly.