Who would have thought that the "Christmas Village" post would have gotten more page views than the last pig butchering. No Scrooges here, apparently! I was actually rather pleased to find that out.
Anyway, I am not doing any more Christmas villages today. It is just another canning day but it has gone really well and I haven't rushed any and still got a good bit done.
I knew I was going to have to can carrots that I got on sale a couple of days ago but when I looked in the frig this morning I saw part of a chicken. It is a chicken Phil bought at the store on Friday night. It still had a whole breast on it. And I am out of stock. So the stock was started first. While it simmered I spent some time lazing and Phil made us breakfast. It simmered more while I went out and fed the animals. I finally got back to it about 10:30 a.m. Since carrots and stock both need to be pressure canned for 25 minutes. I then got the carrots cut up and heated up so that I would have a full canner-full. There was only room for 3 jars of carrots in with the stock so I had to do a second batch but there were only 4 more jars of carrots left. I did, however, have mushrooms. Mushrooms only have to be canned 30 minutes and I didn't figure the extra 5 minutes would hurt the carrots.
I have not canned mushrooms before but they are no harder than the carrots. I did find that they shrunk when heated up. Normally I measure out my canned goods by how many jars they will take but after the mushrooms were heated and shrunk, they did not fill the two jars I had. Luckily I hadn't used all the mushrooms and just cleaned and heated up some more to fill the jars.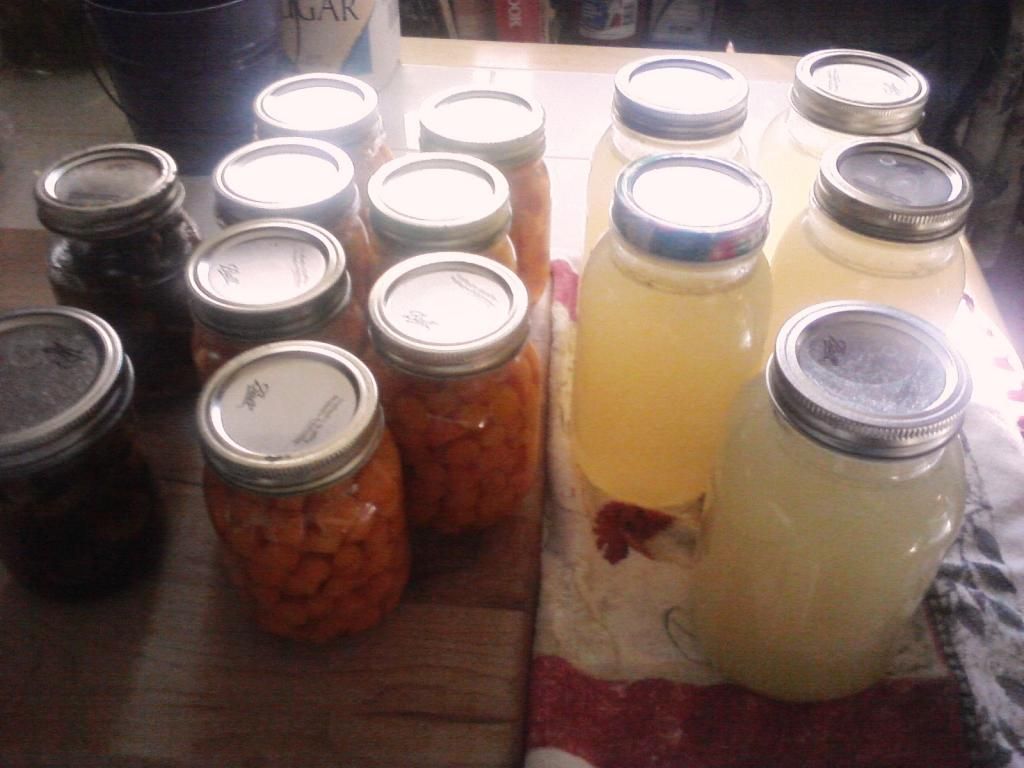 I have two pint jars left (only because we emptied 4 yesterday) and my shelves are full and now some of the canned stuff is sitting in boxes on the floor. Don't even know where I will put these. I'll have to find another box, I guess.
Other than canning the chicks were evicted from the brooder in the spare room and moved out into the greenhouse. There were too many of them for the little brooder. They needed more space.
I also got into the pig pen and pulled out pallets, feed dishes etc. It still needs a lot of work done but doesn't look quite so "junky" now.
That is the day so far. I have 3 long days coming up at work before I get my 4 day weekend. I am definitely looking forward to Thanksgiving!