So here is another really simple recipe I am trying today that involves using up some home canned stuff.
I still had a few jars of cabbage on the shelf. We love cabbage but don't use it a lot. These jars had been there a year and needed to be used . I am, of course, partial to casseroles, stews and soups--anything that can be put in the crock pot since I work evenings and Phil likes to eat before 7:30 every night.
The other day I got some nice little smoked sausages marked down at the store. There were about 10 fat links in this package and sausage always goes good with cabbage so they went in the crock pot with 2 of the jars of canned cabbage (you could use fresh, of course) liquid and all. I had to add a few more jars of water Chicken stock would have been better but I am all out of chicken stock right now (3 fat meat chickens still out playing in the yard, sigh). I then added an onion, cut up, a sprinkling of caraway seed, a bit more of a sprinkling of mustard seeds, a tablespoon or so of salt, and some pepper.
Here is the picture before cooking as I won't have one for afterwards unless I think to take a picture of my bowl.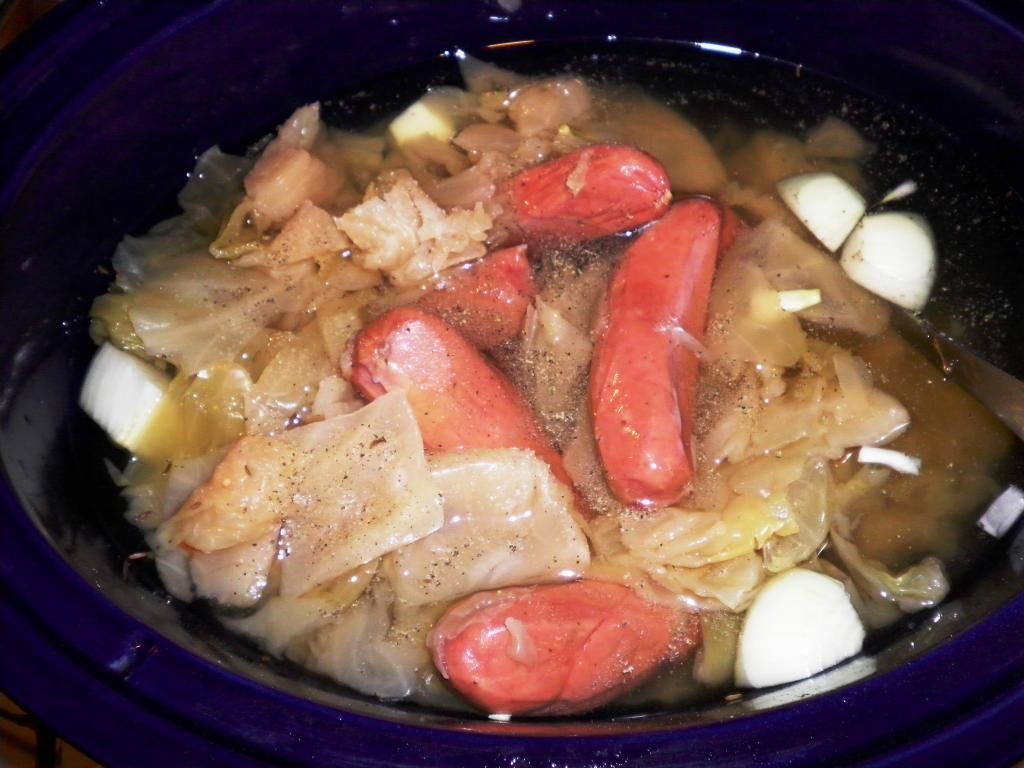 The cabbage was still nice and firm, by the way, and smells wonderful---if you like the smell of cabbage, which I do.
I'll leave this on low for the day because these new crock pots cook entirely too hot to put them on high. Later about 20 minutes before eating Michelle is going to add some egg noodles. Not too many, maybe a handful and that will be all it needs.