It's been a rather dull week. Work, work and more work. Phil says I would miss work if I was home again but I am not so sure of that. Either way, I still have to work so it doesn't matter. I did get my stepping stones moved out back and place approximately where I want them but I haven't gotten any of them actually put in the ground yet. I moved the pots too. The larger ones I put on either side of the swing in the front yard and the smaller ones I put in the back yard but I believe they will have to be moved as I can't plant anything in them with the ducks out there. I have not moved the statue yet since it is just so darn heavy. I'm not sure where I want to put it yet but maybe in the front flower garden if I can get find a place where the 4 o'clocks won't completely overtake it.
I sent for some small container tomato seeds called Sweet N Neat. Here they are in a borrowed photo.
They are only supposed to get 10-12 inches high. I have planted them in 6 inch pots on the windowsill. I planted 4 pots of them and then immediately dumped one off the shelf in the windows and I haven't gotten it replanted yet.
The plants and seedlings in the garden are growing well but we haven't had any rain in a few weeks and it is very dry. I have watered twice but we all know that water from the tap just isn't the same as rain water. It is likely we will get a bit of rain from the storm though I would rather do without rain from a hurricane that might cause damage to so many other people's homes.
I did get the apple wine racked and into its jug a few days ago. I did not taste it at that time but it smells quite nice and I think it may turn out to be one of those that I will like.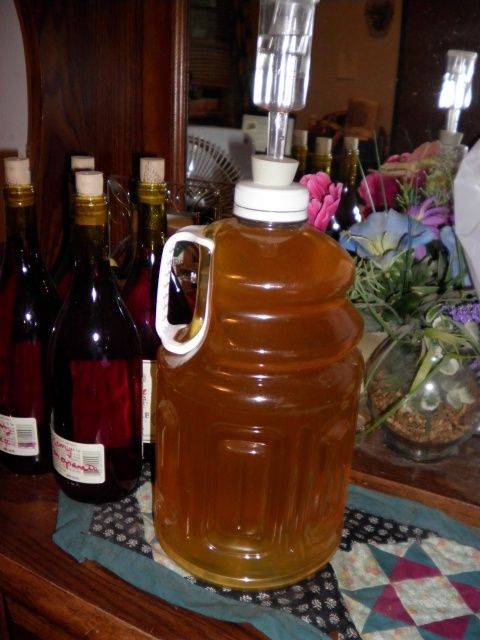 Tonight I have started a larger batch of the pink lemonade wine. It has been my favorite so far and since I know now that I like it, there is no reason to make just one gallon. My bucket, however, is only 5 gallons so I will be making 3 gallons of pink lemonade wine. I was also not able to get the Old Orchard pink lemonade that I got last time. There wasn't any. So I had to get the cheaper Great Value cans. We'll just have to wait and see if there is any difference.
So that is all that has been going on here and I really don't have any plans for tomorrow yet. There are a few potatoes to can and those stepping stones need to be set in but I'm not really sure what I'll actually be doing.