even though I hoped we wouldn't be here to see it grow...sigh...anyway here are some pics.
I missed getting you pictures of the roses when they were fully in bloom but the rose bush out by the mailbox out did itself again this year. There were just tons of blooms but they have mostly gone by now. However the rose bush by the house always blooms a bit later and here are some of those roses.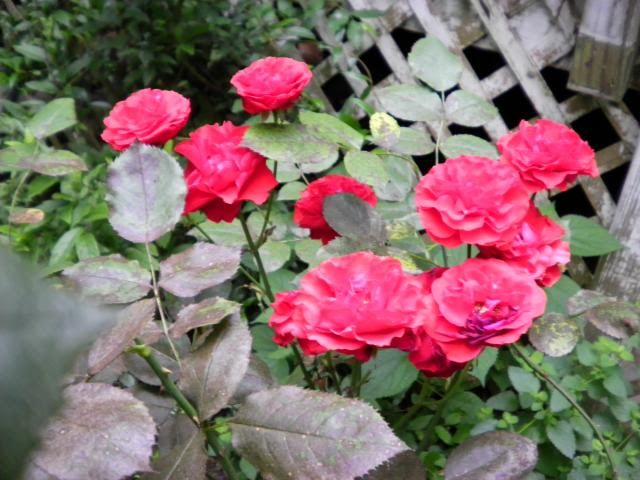 The peach tree and fig tree has put the yellow rose bush almost in the shade and it had more blooms this year than ever before (I think there were six blooms on it this year and it has never had more than two). Perhaps shade is better for this variety or maybe the leaves from the trees are just putting more nutrients in the ground.
I had roses bloom well beside the driveway that have never done well before either. Even a cutting that I planted on the hill years ago and has never bloomed got a bloom this year. I guess all the rain may have helped this year too.
On to the vegetable garden. I can't say I have really put any effort into the garden this year. I had picked up some tomatoes and peppers and just stuck all the tomatoes in one bed and the peppers wherever I could find a place. Then I looked over the seeds I had and put in whatever I had. It didn't amount to much.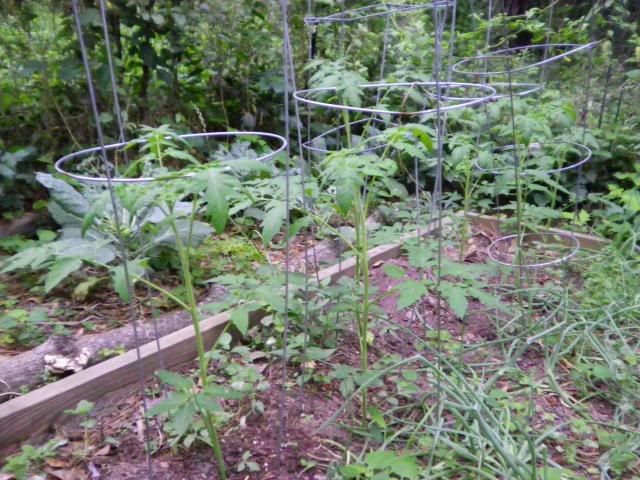 Here are the tomatoes. Of course, since I haven't done anything with them, they are growing just fine. There are some onions in front of them.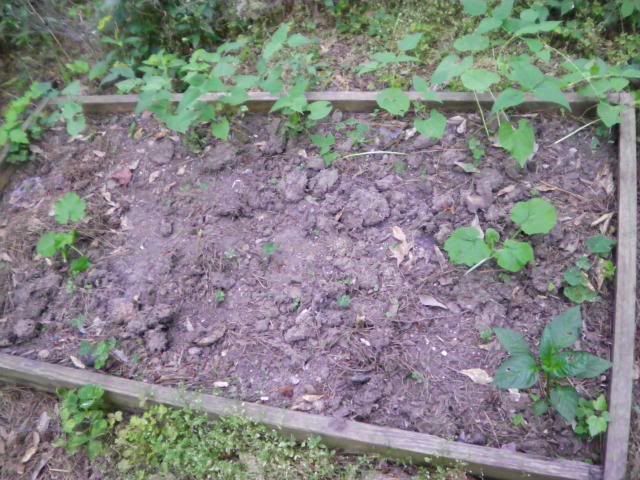 Here is the other big bed. I had one small packet of beans so those are in the front and then there are yellow squash and zucchini. There were supposed to be three plants of the squash but I guess one never came up. Doesn't matter as two will probably fill the bed anyway. That's one of the peppers in the corner.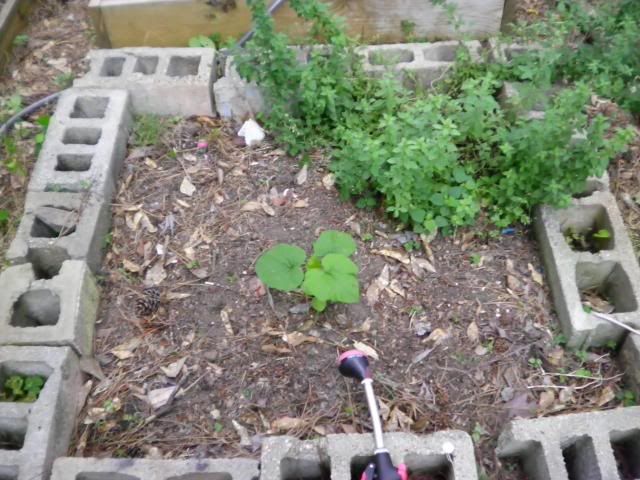 Here is the bed with the herbs. That big one is the oregano and over in the other corner you can see just a tiny bit of green that is the thyme that actually lived through the winter. I have never had any live through the winter. The other plant in there is a pie pumpkin plant.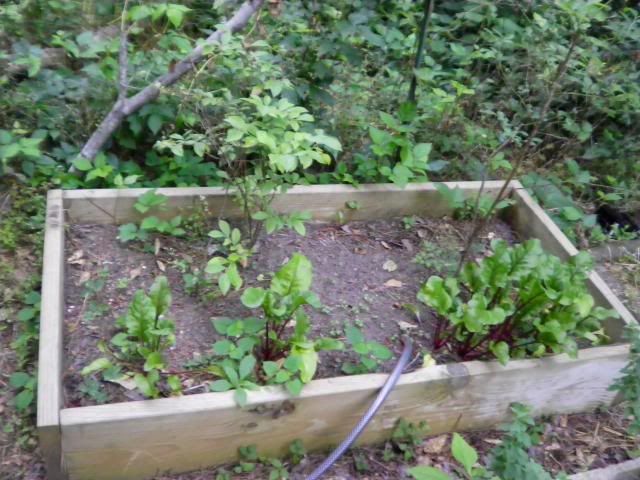 Here are the larger blueberry plants. They were looking pretty good and had some blueberries on them but our weather was so weird, where we would have warm days and then it would get really cold again so it lost the berries and some leaves. In the front (those that aren't weeds) are some beet plants. They aren't getting much for roots but maybe I will just eat the greens instead. They look pretty tasty.
These are the pink blueberries. They did not produce any berries this year or flowers for that matter but they are still growing well. That is a pepper plant in the front and some nice poison ivy in the rear that I need to take the hoe to.
The two other beds in the garden I haven't planted anything in yet. I may just leave one empty but the other I plan to get some cucumbers started.
I wanted to show you a few pictures of the trees as their growth has been kind of amazing.
This, believe it or not, is a little piece of fig tree that I planted here, I think, 4 years ago. It is now taller than the house. I planted it there to block the sun from hitting my bedroom window as it was really hot in the bedroom with that sun on it. (In Georgia, shade is everything). You can't see my window now! It does have figs all over but it will be a race to see if I can get any before the birds. I like them once they turn brown and the birds do not seem to care if they are green or not so the birds usually win. The tree will actually need trimming next year but I hope I am not here to do it. The fig tree in the back yard is only a little smaller because we had to trim it some to put the fence in but not much smaller.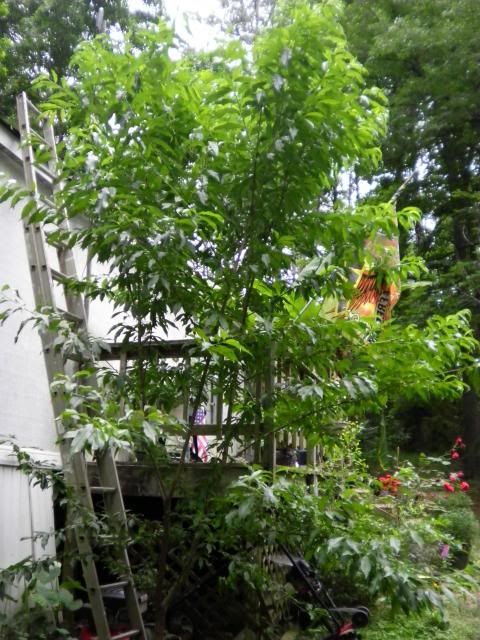 This is the peach tree. I planted this the year before last. I didn't get around to trimming it this winter which is why it is so huge now. It got some blooms this spring but the late frosts took care of those so, unfortunately, it will not produce this year.
And lastly, the banana trees have produced another bloom. Winter was very mild again and it didn't die back to the ground again so it has produced another bloom. Last year the bloom got too heavy and fell off but this one seems to be holding on well. These bananas will not be edible from this variety but they do produce seed that I can plant or give away or whatever.