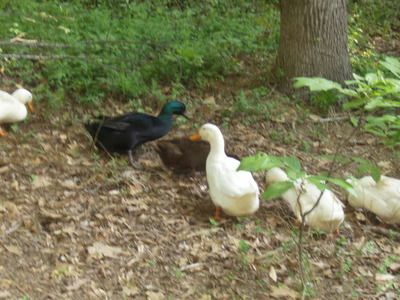 I don't know how many of you have been paying attention to the totals on the sidebar but the 11 ducks have not been real impressive in the egg laying department this year and they were not real impressive last year either. So right now the ducks are just eating food and not really giving anything back and that is not real self sufficient.
There are several issues with the ducks. For one; there are too many drakes. There are more drakes than ducks and although they are not hurting the ducks any, there is no sense in having more drakes than ducks. Two; the duck house is in a sad state of repair and we just plain need a new one. However, neither one of those should be affecting the egg laying abilities of the ducks.
The solution to the problem is going to be that some of the drakes just have to go and we are going to need to hatch or otherwise acquire some new ducklings. I really should have been hatching and butchering ducks all along (I did with my first flock)but sometimes things just get away from me and butchering ducks is not really my favorite chore.
There is also always the option of getting rid of the ducks altogether (I did that with the first flock when I went back to school). I think I will keep them though. I missed my ducks when I got rid of the first flock and I happen to really like the ones I have now. So I think I will get the incubator set up and collect up what few duck eggs I can. I need to put in a set of quail eggs anyway.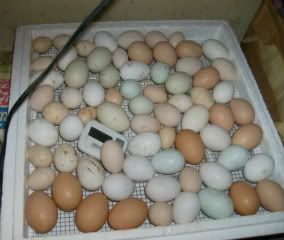 An incubator full from last year.