I have not been much of a gardener this summer. I do have excuses though. I have been working from 8:00 to 5:30 all summer. I never work that many hours but this year with a new director, I felt it was necessary. When you are taking care of this many children, I think it is important to do it well.
Anyway, that is not my only excuse. It has rained more than I have ever seen it rain during the summer in all the years I have lived here in GA. For a couple weeks it rained every day and on other weeks it rained at least once or twice a week. The weeds in the garden are just right out of control and I have no time to pull them.The garden is quite literally scary to step in. I am very careful to watch for snakes. With the rain have also come the mosquitoes. We don't normally have that much problem with the mosquitoes but they are terrible this year. Bug spray is a must and I really hate spraying the stuff on me but there is no other choice if you are going to be outside this year.
Excuse number three would be that we just have been doing other things on the weekends, with helping my brother move and repairs on the house, my trips to the garden are few and quick.
It really hasn't been much of a garden anyway. As you all know I just threw in some seeds this year and put the pepper and tomato plants in late. The squash plants died off pretty quickly, some bug got in the stems, the pumpkin plant lasted longer but not much, the beans got over run by the weeds. I did get a few but not much. The tomatoes got eaten down by a deer. They have grown back and grown real tall but have only produced about 5 green tomatoes so far. The pepper plants have done what bell pepper plants always do in my garden, they produce blooms but not peppers.
One success, however, has been the cucumbers. My cucumber plants don't usually produce very much because we get hot too quick and they just die off. This year with the rain and cooler temps, they are thriving.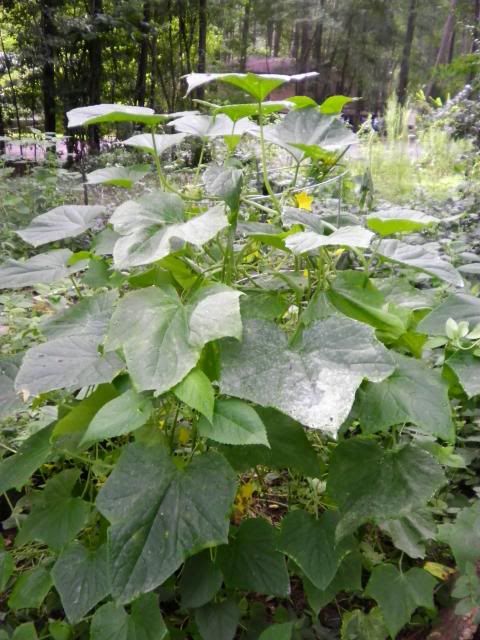 So far I have gotten 4 cucumbers in all which is a record for my garden. Here are two I picked the other day.
Unfortunately one of them had worms which I had never even seen in a cucumber but the other one did not have any and Phil ate it last night.
We may even get a few more..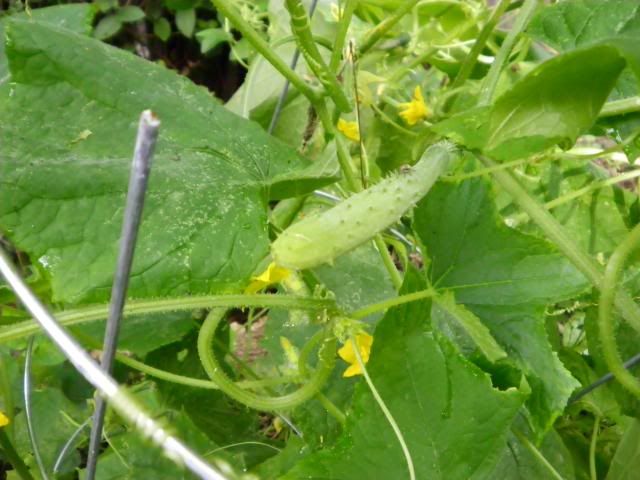 The only other success in the garden is the basil. I had a package (small) of basil from my seed-of-the-month club that I just tossed in between the blueberry plants. They did well and I cut them today to make pesto.
There is one other edible thing growing in the yard that is doing well and that is the garlic chives. This patch of garlic chives have been there on our little hill 6 or 7 years (maybe longer) and I hadn't seen it bloom before.
Besides cutting the basil my gardening chores today were to plant rose bushes. I got two little rose bushed marked down to $2.12 yesterday.
The tag says Red Drift. Some type of miniature rose. I planted them outside the fence on one side of the arch (the other side is shaded by the fig tree) and then I went and dug up a rose bush on the other side of the house. It also has miniature blooms but they are lilac colored. It has lived on the other side of the house for years now but only ever gets a couple of blooms if it reaches out enough because that side is shaded by the house. I think it will do much better on the side with the fence if it lives through my transplanting it at this time of year.
As you can see it has no leaves on it so I felt it was doing so poorly that it was worth the risk. I did intend to trim it down to help it grow more roots but right then the neighbors dog trotted over and Echo was in the back yard. She got so excited and crazy that she chased one of the bantam chickens and caught it (she has not caught one before). I had a heck of a time getting her off it and it was gone by the time I had taken Echo to the house so I don't know how much damage she did but I don't have much hope for that bantam. He was just one of the three rooster bantams that wander the yard but I will not have the dogs attacking the chickens EVER! Anyway, I should probably get out there and finish the trimming job and then get that pesto made...