This is a continuation of our trip to Lake Lure Inn and Spa for my sons wedding. I wanted to tell you about what we ate and the gardens there.
I will start with what we ate. There is a very nice and very expensive dining room at the hotel and I just had my heart set on dining there. I really don't know why. Normally I would not be excited by eating in such a fancy, formal place but I just wanted to do it just once.
It was a very pretty place.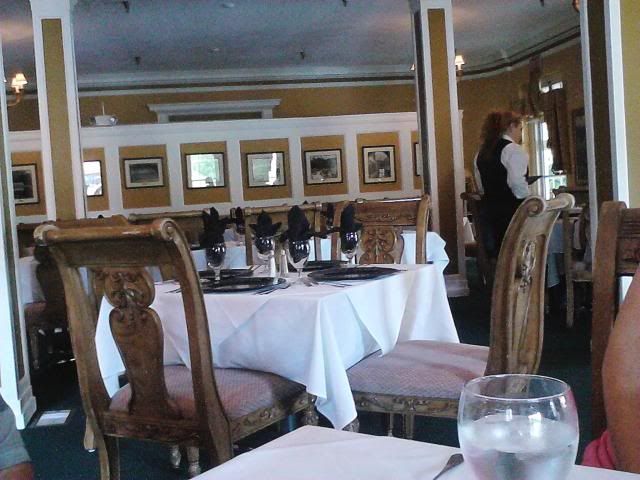 And as you can see it was also very empty. There was only one other diner at the time willing to part with so much money for a meal apparently.
We had clam stuffed mushrooms for an appetizer. They were pretty good but wouldn't be a favorite for me.
For our main course I ordered braised trout with lemons. It came with rice pilaf with mushrooms and broccoli.The trout was absolutely excellent (I hadn't actually had trout in years and years and then it was wild trout we caught ourselves but trout has always been a favorite of mine) and the rice pilaf wasn't bad but a bit plain. The broccoli was cooked perfectly for me but Phil who also had broccoli did not like it as it was too hard for him. Phil had the ribeye steak and new potatoes and it was also excellent (he gave me a bite). Michelle being the almost vegetarian that she is, had a salad but with grilled chicken.They sent her quite a big salad with lots of strips of grilled chicken and she was not able to eat it all.
The wine we chose was....um beer! Hah, we didn't get too fancy did we? But even the beer was a real treat because we never drink and drive and I don't drink during any of our dinners out since he can't so we never drink at restaurants. We were able to at this one only because we just had a short walk to our room.
Anyway, it was a lot of money and I probably wouldn't do it again but it was just incredibly nice to do it this time.
As I mentioned in my last post. The only other place we ate was a little dinner on the other side of the motel and we at there for breakfast.
Another shot of a table off on one end and the view of the lake and mountains.
Totally different from our dining the night before. As you can see we sat outside at a very rustic table. We were surrounded by planters of herbs. (A woman came out and was watering the lemon balm and it smelled wonderful). Our view was the lake. It was quite and so nicely cool (it was about 7:00 a.m. in the morning and it is not usually that cool here in Georgia ). Our breakfast was a buffet and we had eggs, sausage, bacon, grits, biscuits, gravy, French toast and pancakes (no we did not eat all that, it was just what was offered). It was so comfortable that we took our time and just enjoyed it. Later after we had walked back and found the groom my son who had not eaten, we walked him over and treated him to breakfast there as well.
So that was our dining experience at the Lake Lure Inn and Spa. We ate food prepared by the hotel at the reception and their chicken and pork and several other dishes were excellent as well.
On to the gardens. I made sure to take pictures of the garden mainly because I do so enjoy reading Mark's posts about gardens he sees on his trips that I felt I should do the same. There were lots of lovely gardens at the hotel. This first one I am going to show is the back of the Roosevelt Hall which is where we had the reception. I have never been a big fan of rock gardens but this one was really nice.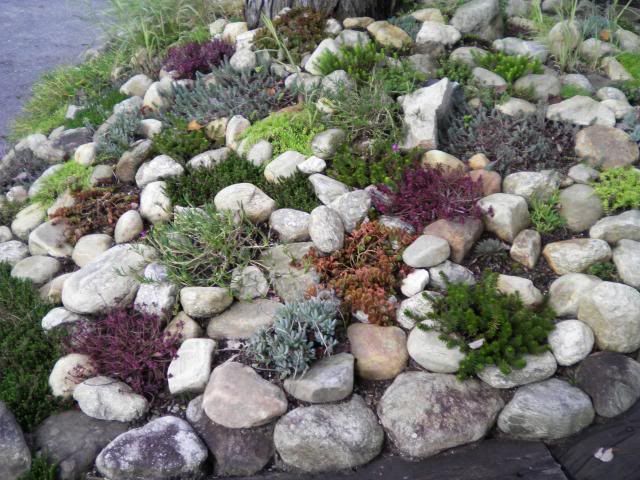 I loved all the different colors of these though I have no idea what they are.
Moving on to the front of Roosevelt Hall.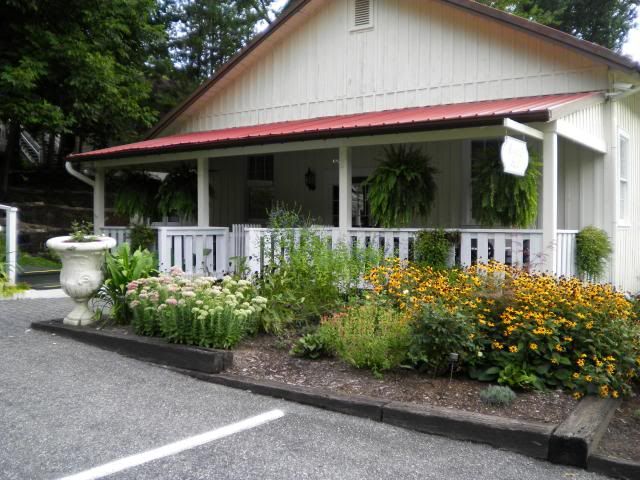 Yes it is gorgeous! All in bloom and just lovely.
Then going on up the hill to the other building that were used in the movie Dirty Dancing, Baby's Bungalo has the prettiest garden beside it. It is a shade garden with a couple little paths and benches. It is not real full or colorful but it still looks so pretty.
Another view, same garden.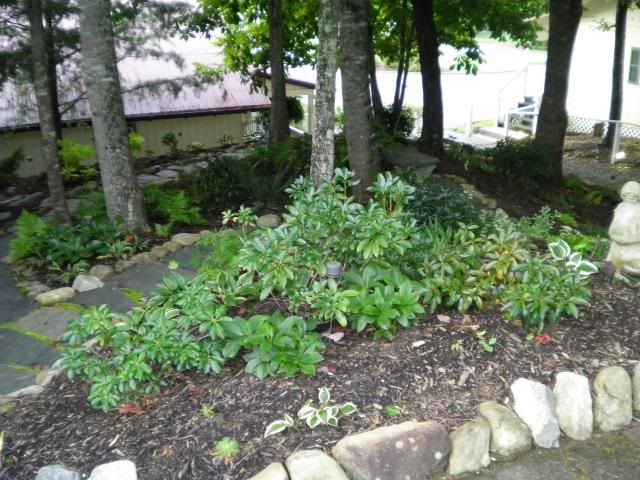 Behind the hotel there was this small little odd space that they also made into a little garden. I don't feel like my pictures really do it justice but it was a small space and hard to get pictures of it. It was just a little square with stuff planted all around.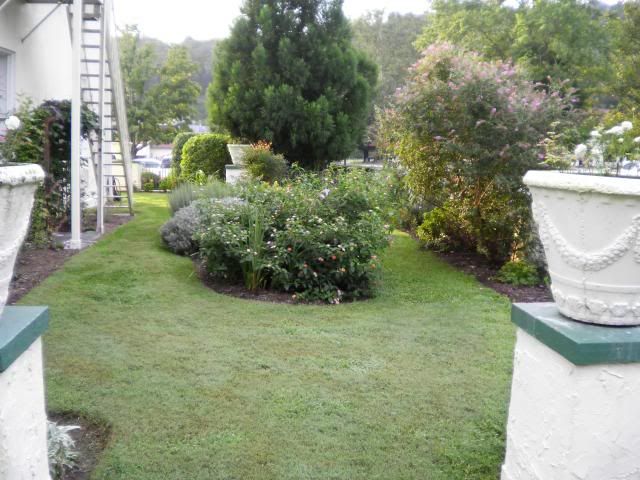 A closer shot of one side.
The only other picture I got was one of these big pots. These were outside between each rooms and filled with different things. They really made it pleasant just walking to your room (our rooms were on the beachfront part of the hotel which is more like the motel part).
I am very sad that I missed the Flowering Bridge. We passed it while we were headed on our little shopping trip in Chimney Rock but were just too hot to stop on the way back to look at it. It is an old bridge and when the built the new bridge they decided to save the old one and make it into a flowering bridge with a winding path. It looked quite beautiful as we were passing. You can read about it and see pictures here:
So our dining and the gardens were wonderful. I would love to go back again and hope we get the chance when we can stay a day or two longer.